Episode 206 – The Joke's on Who?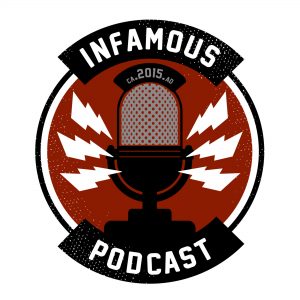 The Infamous Podcast
Episode 206 - The Joke's on Who?
This is Joker This week on the podcast Brian and Johnny review the new DC Comics/Warner Bros. film Joker, directed by Todd Phillips and starring Joaquin Phoenix. There is also talk of IT: Chapter 2, and Brian's recent and upcoming travels. Joker (2019) Summary Forever alone in a crowd, failed comedian Arthur Fleck seeks connection as he walks the streets of Gotham City. Arthur wears two masks — the one he paints for his day job as a clown, and the guise he projects in a futile attempt to feel like he's part of the world around him. Isolated, bullied and disregarded by society, Fleck begins a slow descent into madness as he transforms into the criminal known as The Joker. Cast & Crew Cast Joaquin Phoenix as Arthur Fleck/Joker Robert De Niro as Murray Franklin Zazie Beetz as Sophie Dumond Frances Conroy as Penny Fleck Crew Directed by Todd Phillips Produced by Todd Phillips Bradley Cooper Emma Tillinger Koskoff Written by Todd Phillips Scott Silver Based on Characters by DC Comics Starring Joaquin Phoenix Music by Hildur Guðnadóttir Cinematography Lawrence Sher Edited by Jeff Groth Production Production Companies Warner Bros. Pictures Village Roadshow Pictures Distributed by Warner Bros. Pictures … Continue reading Episode 206 – The Joke's on Who?
Copy and paste this URL into your WordPress site to embed
Copy and paste this code into your site to embed