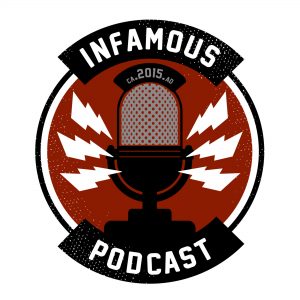 Turn Out the Lights and Lock the Door Behind You
This week on the podcast, Brian and Darryl ask WTF IS GOING ON WITH THE MOVIE THEATERS! That and the penultimate episode of The Boys season 2 had "explosive" repercussions. Then they talk about all the things Covid-19 has ruined in entertainment other than movies.
Episode Index:
Intro: 0:45
Invincible Trailer: 2:20
The Expanse Season 5 Trailer: 7:18
Spider-Man 3 Gets Strange: 13:58
Dune Moves to 2021: 18:50
The Batman Delays: 21:08
WTF is up with Movie Theaters: 26:58
The Boys – Butcher, Baker, Candlestick Maker: 50:37
News Bites
Invincible – Teaser Trailer on Prime Video
The Expanse Season 5 Official Trailer on Prime Video
Denis Villeneuve's 'Dune' Delays Release Date
'The Batman' Delays Release to 2022 as Warner Bros. Shuffles Calendar
Movie Theater Chains Closing Down Until 2021
Regal Movie Chain Will Close All 536 U.S. Theaters On Thursday
Mega U.S. Movie Chain Cinemark Has No Plans to Close Again
Studios "Must Be Willing to Take a Hit" to Keep Cinema Chains From "Falling Apart": Analyst
The Boys (Season 2 Episode 7)
Summary
Congresswoman Victoria Neuman schedules a hearing against Vought, with Lamplighter as the chief witness. After Vought uncovers Annie's betrayal, Hughie convinces Lamplighter to join him in a rescue attempt, which results in the latter immolating himself to deactivate her holding cell. Annie escapes with the help of Maeve, who subdues Black Noir. Despite the loss of Lamplighter, Butcher strong-arms Vogelbaum into testifying against Vought. However, the hearing is sabotaged by an assassin who kills Vogelbaum and others in the same manner Raynor was killed. Meanwhile, Homelander and Stormfront manipulate Ryan into leaving Becca. A-Train grows suspicious of the Church of the Collective. Maeve and Elena break up over Maeve failing to save the plane.
Title: Butcher, Baker, Candlestick Maker
Directed by: Stefan Schwartz
Written by: Craig Rosenberg
Release Date: Oct. 2, 2020
Cast
Karl Urban … Billy Butcher
Jack Quaid … Hughie Campbell
Antony Starr … Homelander
Erin Moriarty … Starlight / Annie January
Dominique McElligott … Queen Maeve
Jessie T. Usher … A-Train
Laz Alonso … Mother's Milk
Chace Crawford … The Deep
Tomer Capon … Frenchie
Karen Fukuhara … Kimiko Miyashiro
Nathan Mitchell … Black Noir
Colby Minifie … Ashley Barrett
Aya Cash … Stormfront
John Noble … Sam Butcher
Lesley Nicol … Connie Butcher
Infamous Shirts for Naked Bodies

…

You'll feel "shirty" when you buy our gear from the Flying Pork Apparel Co.
New Comics This Week – Sponsored by comiXology

Brian
BATMAN #100
SPIDER-MAN MARVELS SNAPSHOT #1
STAR WARS #7
Contact Us
The Infamous Podcast can be found wherever podcasts are found on the Interwebs, feel free to subscribe and follow along on social media. And don't be shy about helping out the show with a 5-star review on Apple Podcasts to help us move up in the ratings.
@infamouspodcast
facebook/infamouspodcast
instagram/infamouspodcast
stitcher
Apple Podcasts
Spotify
Google Play
iHeart Radio
contact@infamouspodcast.com
Our theme music is 'Skate Beat' provided by Michael Henry, with additional music provided by Michael Henry. Find more at MeetMichaelHenry.com.
The Infamous Podcast is hosted by Brian Tudor and recorded in Cincinnati, Ohio. The show is produced and edited by Brian Tudor.



Subscribe today!