Rebirths, Reveals and the Voice of God
On this week's episode Johnny is BACK! He and Brian talk about some of the news highlights this week, recap the pretty awesome Preacher pilot episode from AMC, look at DC Universe Rebirth #1, and finally talk about the finales from Legends of Tomorrow and The Flash!
Quick News
Captain America Steve Rogers #1
Thor: Ragnarok Casting News
Star Trek: Beyond 2nd Trailer Reaction
Disney/Pixar/Marvel/Lucasfilms Netflix deal
X-Men: Apocalypse Hits Theaters
DC Comics TV Universe Finales
The Legends became legendary! The Flash ran fast! And Arrow took aim in the Darhk!
Preacher Pilot Episode Recap
Preacher is an American television series developed by Evan Goldberg, Seth Rogen and Sam Catlin for AMC starring Dominic Cooper. It is an adaptation of the comic book series created by Garth Ennis and Steve Dillon, and published by DC Comics' Vertigo imprint.
DC Comics Rebirth #1
DC Rebirth is a 2016 relaunch by DC Comics of its entire line of ongoing monthly superhero comic books. Using the end of The New 52 initiative in May 2016 as its launching point, DC Rebirth is intended to restore the DC Universe to a form much like that prior to the "Flashpoint" storyline, while still incorporating numerous elements of The New 52, including its continuity. It will also see many of its titles move to a twice-monthly release schedule, with all titles releasing at US$2.99.
New Comics This Week
Johnny
ALIENS DEFIANCE #2
BACK TO THE FUTURE #8
BILL & TED GO TO HELL #4
BLOODSHOT REBORN #13
CAPTAIN AMERICA STEVE ROGERS #1
DC UNIVERSE REBIRTH #1
DISNEY MAGIC KINGDOM COMICS #1
DIVINITY II #2
FLASH #52
GUIDE MARVEL CINEMATIC UNIV CA WINTER SOLDIER ANT-MAN
HORRORHOUND #59
IMPERIUM #16
JUDGE DREDD (ONGOING) #6
LETTER 44 #25
MOON GIRL AND DEVIL DINOSAUR #7
OBI-WAN AND ANAKIN #5
PREVIEWS #333 JUNE 2016
SCOOBY APOCALYPSE #1
STAR WARS #19
TOKYO GHOST #7
Brian
CAPTAIN AMERICA STEVE ROGERS #1
DC UNIVERSE REBIRTH #1
DOCTOR STRANGE #8
EXTRAORDINARY X-MEN #10
GRAYSON #20
MIGHTY THOR #7
MOON GIRL AND DEVIL DINOSAUR #7
OBI-WAN AND ANAKIN #5
STAR WARS #19
TOKYO GHOST #7 CVR B BENGAL
TOTALLY AWESOME HULK #6
UNCANNY INHUMANS #9
WE ARE ROBIN #12
Contact Us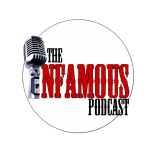 The Infamous Podcast can be found wherever podcasts are found on the Interwebs, feel free to subscribe and follow along on social media. And don't be shy about helping out the show with a 5 star review on iTunes to help us move up in the ratings.
@infamouspodcast
facebook/infamouspodcast
stitcher
iTunes
Google Play
contact@infamouspodcast.com
The music in this episodes is Pomade by Silent Partner. The Infamous Podcast is Johnny Pottorf and Brian Tudor, and is produced and edited by Brian Tudor.

Subscribe today!