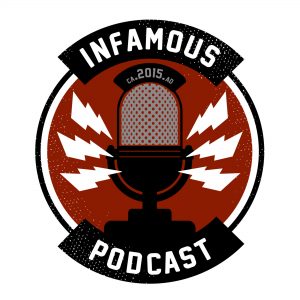 Trigger Warnings Abound
This week Johnny and Brian are taking a side street away from Tights, Flight, and all that good stuff and looking at the Netflix Original Series '13 Reasons Why' based on the novel of the same name. Fair warning there will be talk of mature subjects, mental illness, and suicide.
News Bites
Star Wars: The Last Jedi Trailer
Star Wars Rebels Season 4 Trailer
Bruce & Thomas Wayne Reunited as Batman #21 Kicks Off 'The Button'
Secret Empire #0 Out This Week
SyFy Krypton Trailer
13 Reasons Why
13 Reasons Why (stylized onscreen as Th1rteen R3asons Why) is an American television series based on the 2007 novel Thirteen Reasons Why by Jay Asher and adapted by Brian Yorkey for Netflix. The show revolves around a student who kills herself after a series of culminating failures, brought on by select individuals within their school.
Originally conceived as a film set to be released by Universal Pictures for a female audience with Selena Gomez in the lead role, the adaptation was picked up as a television series by Netflix in late 2015. Gomez served as an executive producer.
Cast
Main
Dylan Minnette as Clay Jensen
Katherine Langford as Hannah Baker
Christian Navarro as Tony Padilla
Alisha Boe as Jessica Davis
Brandon Flynn as Justin Foley
Justin Prentice as Bryce Walker
Miles Heizer as Alex Standall
Ross Butler as Zach Dempsey
Devin Druid as Tyler Down
Amy Hargreaves as Lainie Jensen
Derek Luke as Kevin Porter
Kate Walsh as Olivia Baker
Recurring
Michele Selene Ang as Courtney Crimsen
Brian d'Arcy James as Andy Baker
Sosie Bacon as Skye Miller
Steven Weber as Principal Gary Bolan
Mark Pellegrino as Sheriff's Deputy Standall
Ajiona Alexus as Sheri Holland
Henry Zaga as Brad
Steven Silver as Marcus Cole
Tommy Dorfman as Ryan Shaver
Robert Gant as Todd Crimsen
Keiko Agena as Pam Bradley
Uriah Shelton as Pratters
Brandon Larracuente as Jeff Atkins
Timothy Granaderos as Montgomery de la Cruz
Josh Hamilton as Matt Jensen
Joseph C. Phillips as Mr. Davis
Crew
Executive producer(s)
Diana Son
Tom McCarthy
Joy Gorman Wettels
Steve Golin
Michael Sugar
Selena Gomez
Mandy Teefey
Kristel Laiblin
Producer(s)
Joseph Incaprera
Location(s)
California, United States
Editor(s)
Leo Trombetta
Production company(s)
July Moon Productions
Kicked to the Curb Productions
Anonymous Content
Paramount Television
Distributor
Netflix
Prevention
If you are experiencing bullying or feeling depressed or suicidal, the best thing you can do for yourself is to tell somebody.
For help battling anything you are dealing with, especially suicide, call the National Suicide Prevention Hotline at 1-800-273-8255. Or, visit mavenclinic.com or suicide.org or www.13reasonshwy.info.
New Comics This Week
Johnny
ASTRO CITY #43
BACK TO THE FUTURE #18
BATMAN #21
BLACK HAMMER #8
CAPTAIN AMERICA STEVE ROGERS #16
CURSE WORDS #
DESCENDER #21
GENERATION ZERO #9
GREEN LANTERNS #21
I HATE FAIRYLAND #12
INVINCIBLE #135
MASK MOBILE ARMORED STRIKE KOMMAND #5
NIGHTWING #19
NINJAK #26
SECRET EMPIRE #0
STAR TREK GREEN LANTERN VOL 2 #5
STAR WARS POE DAMERON #13
WILD STORM #3
Brian
BATMAN #21
GUARDIANS OF GALAXY DREAM ON #1
HIGHLANDER AMERICAN DREAM #3
INVINCIBLE #135 CVR B APRIL FOOLS VAR
NIGHTWING #19 VAR ED
SECRET EMPIRE #0
SEX CRIMINALS #18
STAR TREK GREEN LANTERN VOL 2 #5
STAR WARS POE DAMERON #13
STAR-LORD #6
SUPER SONS #3 VAR ED
TOTALLY AWESOME HULK #18
Contact Us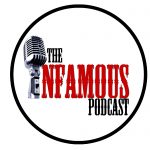 The Infamous Podcast can be found wherever podcasts are found on the Interwebs, feel free to subscribe and follow along on social media. And don't be shy about helping out the show with a 5-star review on iTunes to help us move up in the ratings.
@infamouspodcast
facebook/infamouspodcast
stitcher
iTunes
Google Play
contact@infamouspodcast.com
The music in this episodes is Moose from Bensound.com. The Infamous Podcast is Johnny Pottorf and Brian Tudor, and is produced and edited by Brian Tudor.

Subscribe today!