Underwater Farming and Sewer Living
On this week's show Johnny and Brin kick off Disney Sci-fi month! They jump all the way back to 1954 and take a look at the steampunk inspiring 20,000 Leagues Under the Sea. They both checked out TMNT: Out of the Shadows, and have some things to say about the latest adventures of everyone's favorite turtles. Finally, in comic book TV/Movie news the react to the big Supergirl news, and look at Marvel Studios vs. Marvel Comics feud between Studio Head Kevin Feige and Marvel CEO Ike Perlmutter.
Superman coming to Supergirl Season 2
Who Will Play the Man of Steel? (Dream Casting)
Superman is officially coming to "Supergirl" in Season 2, with casting currently underway for the role of Clark Kent/Kal-El, the cousin of titular heroine Kara Zor-El (Melissa Benoist).
Source: Variety
Marvel Studios vs. Marvel Comics (who gets the credit?… the blame?)
Bleeding Cool's reportage on the state of Marvel Studios and Marvel as a whole. And especially the divide between Marvel CEO Isaac Perlmutter and Head Of Studios Kevin Feige that saw the company split in twain, which has received all manner of planted spin of late.
Source: Bleeding Cool
Review Teenage Mutant Ninja Turtles: Out of the Shadows
The turtles face a new challenge when Shredder escapes from custody and joins forces with Baxter Stockman, a mad scientist who plans to use a serum to take over the world. Along for the ride are Bebop and Rocksteady, two dimwitted henchmen who provide plenty of muscle. Luckily, the turtles have their own allies in April O'Neil, Vernon Fenwick and Casey Jones, a hockey-masked vigilante. As the pizza-loving heroes prepare for battle, the notorious Krang also emerges to pose an even greater threat.
Source: Wikipedia
Director: David Green
Starring:
Live Action
Megan Fox as April O'Neil
Stephen Amell as Casey Jones
Will Arnett as Vern Fenwick
Brian Tee as Oroku Saki / The Shredder
Tyler Perry as Dr. Baxter Stockman
Brittany Ishibashi as Karai
Laura Linney as Police Chief Rebecca Vincent
Voice/Motion Capture
Pete Ploszek as Leonardo
Alan Ritchson as Raphael
Noel Fisher as Michelangelo
Jeremy Howard as Donatello
Tony Shalhoub (voice) and Peter D. Badalamenti (motion-capture) as Splinter
Brad Garrett as Krang[17][18] Gary Anthony Williams as Bebop[19] Stephen "Sheamus" Farrelly as Rocksteady[20]
Review 20,000 Leagues Under the Sea
20,000 Leagues Under the Sea is a 1954 American Technicolor adventure film and the first science fiction film shot in CinemaScope. The film was personally produced by Walt Disney through Walt Disney Productions, directed by Richard Fleischer, and stars Kirk Douglas, James Mason, Paul Lukas and Peter Lorre. It was also the first feature-length Disney film to be distributed by Buena Vista Distribution. The film is adapted from Jules Verne's 19th-century novel Twenty Thousand Leagues Under the Sea. It is considered an early precursor of the steampunk genre. – Wikipedia
Director: Richard Fleischer
Starring:
Kirk Douglas as Ned Land
James Mason as Captain Nemo
Paul Lukas as Professor Pierre Aronnax
Peter Lorre as Conseil
Robert J. Wilke as Nautilus's First Mate
Ted de Corsia as Captain Farragut
Carleton Young as John Howard
J. M. Kerrigan as Billy
Percy Helton as Coach driver
Ted Cooper as Abraham Lincoln's First Mate
Fred Graham as Casey
New Comics This Week
Johnny
4001 AD BLOODSHOT #1
AGENTS OF SHIELD #6
BIG TROUBLE IN LITTLE CHINA #25
COLOR YOUR OWN YOUNG MARVEL BY SKOTTIE YOUNG TP
DARK AND BLOODY #5
DARTH VADER #21
EMPRESS #3
FIX #3
FLASH REBIRTH #1
GREEN LANTERN CORPS EDGE OF OBLIVION #6
GRIZZLY SHARK #3 GRIZZLY SHARK VS SEA BEAR
HOUSE OF PENANCE #3
NINJAK #16
PROMETHEUS LIFE AND DEATH #1 PALUMBO MAIN CVR
SHERIFF OF BABYLON #7
STAR TREK MANIFEST DESTINY #4
STAR TREK ONGOING #58
STAR WARS POE DAMERON #3
THUNDERBOLTS #2
WACKY RACELAND #1
WONDER WOMAN REBIRTH #1
Brian
ALL NEW X-MEN #10 AW
AQUAMAN REBIRTH #1
CIVIL WAR II AMAZING SPIDER-MAN #1
COLOR YOUR OWN LITTLE MARVEL BY SKOTTIE YOUNG TP
DARTH VADER #21
DETECTIVE COMICS #934
FASTER THAN LIGHT #7
FLASH REBIRTH #1
GREEN LANTERN CORPS EDGE OF OBLIVION #6
GUARDIANS OF GALAXY #9
STAR WARS POE DAMERON #3
WONDER WOMAN REBIRTH #1
Contact Us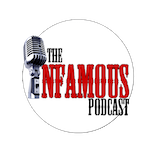 The Infamous Podcast can be found wherever podcasts are found on the Interwebs, feel free to subscribe and follow along on social media. And don't be shy about helping out the show with a 5 star review on iTunes to help us move up in the ratings.
@infamouspodcast
facebook/infamouspodcast
stitcher
iTunes
Google Play
contact@infamouspodcast.com
The music in this episodes is Pomade by Silent Partner. The Infamous Podcast is Johnny Pottorf and Brian Tudor, and is produced and edited by Brian Tudor.

Subscribe today!