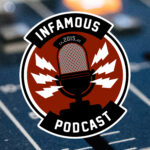 Are You Ready? Then… Let's Get Ready to AVENGERS!!!!
This week on the podcast Johnny and Brian talk about the HBO documentary Andre the Giant, then break down the essential list of MCU movies to watch leading into Avengers: Infinity War!
Andre the Giant
André the Giant is a 2018 TV documentary film based on the life of French professional wrestler and actor André René Roussimoff (better known as André the Giant). The documentary covers André's life with gigantism. The film features professional wrestlers and media personalities such as Vince McMahon, Hulk Hogan, Pat Patterson, Tim White, Ric Flair, Arnold Schwarzenegger, Billy Crystal as well as family members discussing André's life.
Cast & Crew
Written by
Simon Pummell
Directed by
Jason Hehir
Music by
Thomas Caffey
Producer(s)
Janine Marmot
Bill Simmons
Editor
Daniel Goddard
Running time
85 minutes
Distributor
HBO
The Definitive MCU
Here is our list of essential MCU movies to watch before Infinity War.
Captain America: The First Avenger
The Avengers
Thor: Dark World
Avengers: Age of Ultron
Guardians of the Galaxy Vol 1
Captain America: Civil War
Thor: Ragnarok
Black Panther
New Comics This Week – Sponsored by comiXology
When you check out make sure to use the code 'Infamous' to get $5 off when you spend $15!


Johnny
ACTION COMICS #1000
BLACK HAMMER AGE OF DOOM #1
DESCENDER #29
GI JOE VS SIX MILLION DOLLAR MAN #3
INFINITY COUNTDOWN #2
KICK-ASS #3
KONG ON PLANET OF APES #6 (all covers)
SKYWARD #1
STAR TREK BOLDLY GO #18
STAR TREK DISCOVERY SUCCESSION #1
STAR WARS ADVENTURES #9
STAR WARS ADVENTURES ANNUAL 2018
STAR WARS POE DAMERON #26
TRUE BELIEVERS INFINITY INCOMING #1
TRUE BELIEVERS REBIRTH OF THANOS #1
WEAPON H #2
Brian
ACTION COMICS #1000
AMAZING SPIDER-MAN RENEW YOUR VOWS #18
BATMAN #45
JOHN WICK #2
KICK-ASS #3
NIGHTWING #43
STAR TREK BOLDLY GO #18
STAR WARS POE DAMERON #26
SUPER SONS #15 VAR ED
X-MEN GOLD #26
Contact Us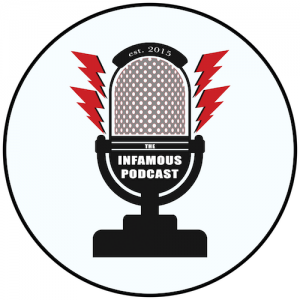 The Infamous Podcast can be found wherever podcasts are found on the Interwebs, feel free to subscribe and follow along on social media. And don't be shy about helping out the show with a 5-star review on Apple Podcasts to help us move up in the ratings.
@infamouspodcast
facebook/infamouspodcast
instagram/infamouspodcast
stitcher
Apple Podcasts
Google Play
contact@infamouspodcast.com
The music in this episodes is Moose from Bensound.com. The Infamous Podcast is Johnny Pottorf and Brian Tudor and is produced and edited by Brian Tudor.

Subscribe today!