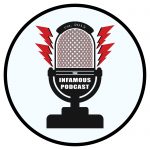 How Fast Did The Kessel Run Really Take?
This week on the podcast Johnny is on vacation so Brian is joined by the one and only David Griffin, and they are talking Cobra Kai and Solo: A Star Wars Story.
Find David Online at:
IGN.com
@GriffinDE on Twitter & Instagram
Cobra Kai (

2018

)
Summary
Cobra Kai takes place 34 years after the original film and follows a "down-and-out Johnny Lawrence, who seeks redemption by reopening the infamous Cobra Kai karate dojo, reigniting his rivalry with a now successful Daniel LaRusso, who has been struggling to maintain balance in his life without the guidance of his mentor, Mr. Miyagi. The show is about two men addressing past demons and present frustrations the only way they know how: through karate."
Running parallel to the conflict are the story arcs of Johnny and Daniel's students. Johnny opens a new Cobra Kai dojo that attracts a group of bullied nerds and social outcasts who find a camaraderie and self-confidence under his tutelage, but who take his aggressive philosophy too far, in particular, his star pupil, Miguel Diaz. In contrast, Johnny's estranged son, Robby Keene, comes under the wing of Daniel, who initially hires the boy at his car dealership, not knowing his father is Johnny Lawrence. Daniel eventually proves a positive influence on the boy, teaching him Mr. Miyagi's philosophy of balance. Meanwhile, Daniel's daughter, Samantha, is caught in the middle of these conflicts as she learns who her true friends are and a better path to follow.
Cast & Crew
Created by
Josh Heald
Jon Hurwitz
Hayden Schlossberg
Based on The Karate Kid film series by
Robert Mark Kamen
Composer(s)
Leo Birenberg
Zach Robinson
Executive producer(s)
Will Smith
James Lassiter
Caleeb Pinkett
Susan Ekins
Josh Heald
Jon Hurwitz
Hayden Schlossberg
Producer(s)
Katrin L. Goodson
Bob Wilson
Cinematography
Cameron Duncan
Editor(s)
Nicholas Monsour
Jeff Seibenick
Ivan Victor
Production company
Hurwitz & Schlossberg Productions
Original Network
YouTube Red
Cast
Ralph Macchio as Daniel LaRusso
William Zabka as Johnny Lawrence
Courtney Henggeler as Amanda LaRusso
Xolo Maridueña as Miguel Diaz
Tanner Buchanan as Robby Keene
Mary Mouser as Samantha LaRusso
Joe Seo as Kyler
Jacob Bertrand as Eli/Hawk
Nichole Brown as Aisha Robinson
Connor Murdock as Kev
Griffin Santopietro as Anthony LaRusso
Hannah Kepple as Moon
Gabe Bowles as Tim
Owen Morgan as Bert
Annalisa Cochrane as Yasmine
Gianni Decenzo as Demetri
Cameron Markeles as Frank
Denzel K Williams as Caleb
Solo: A Star Wars Story (

2018

)
Summary
The galaxy is in a state of disorder, with criminal syndicates competing for valuable resources like the hyper fuel coaxium. On the shipbuilding world of Corellia, orphaned children are made to steal in order to survive as a young Han and his lover Qi'ra long to escape the clutches of a local criminal gang. They bribe an Imperial officer with stolen coaxium in exchange for passage on an outgoing transport, but Qi'ra is apprehended by their pursuers before she can board. Han vows to return for her and joins the Imperial Navy as a flight cadet, taking on the surname "Solo".
Cast & Crew
Directed by
Ron Howard
Produced by
Kathleen Kennedy
Allison Shearmur
Simon Emanuel
Written by
Jonathan Kasdan
Lawrence Kasdan
Based on Characters by
George Lucas
Music by
John Powell
John Williams
(Han Solo theme and original Star Wars music)
Production company
Lucasfilm Ltd.
Distributed by
Walt Disney Studios
Motion Pictures Release date
May 25, 2018 (United States)
Running time
135 minutes
Budget
$250 million
Box office
$168 million [As of Recording]
Cast
Alden Ehrenreich as Han Solo
Woody Harrelson as Tobias Beckett
Emilia Clarke as Qi'ra
Donald Glover as Lando Calrissian
Thandie Newton as Val Beckett
Phoebe Waller-Bridge as L3-37
Joonas Suotamo as Chewbacca
Paul Bettany as Dryden Vos
Erin Kellyman as Enfys Nest
Jon Favreau as Rio Durant
New Comics This Week – Sponsored by comiXology
When you check out make sure to use the code 'Infamous' to get $5 off when you spend $15!


Johnny
Brian
AMAZING SPIDER-MAN #800 BAGLEY VAR
AMAZING SPIDER-MAN RENEW YOUR VOWS #19
BARRIER #5
STAR WARS LANDO DOUBLE OR NOTHING #1
SUPER SONS DYNOMUTT SPECIAL #1
X-MEN BLUE #28
X-MEN RED ANNUAL #1
Contact Us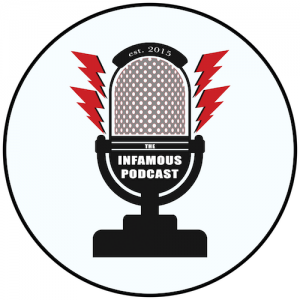 The Infamous Podcast can be found wherever podcasts are found on the Interwebs, feel free to subscribe and follow along on social media. And don't be shy about helping out the show with a 5-star review on Apple Podcasts to help us move up in the ratings.
@infamouspodcast
facebook/infamouspodcast
instagram/infamouspodcast
stitcher
Apple Podcasts
Google Play
contact@infamouspodcast.com
The music in this episodes is Moose from Bensound.com. The Infamous Podcast is Johnny Pottorf and Brian Tudor and is produced and edited by Brian Tudor.

Subscribe today!