Get to the Choppa!!!
This week on the show (THE 100th EPISODE!!) Johnny and Brian continue the Action Monster Movie Series with the 1987 classic, Predator! To make it even more awesome this week is the 30th anniversary of the release of the movie! All that plus they look back at what made Adam West so awesome as Batman (RIP Mr. West), and we get Johnny's thoughts on both Wonder Woman and Pirates 5!
Predator 30th Anniversary Goodness
PREDATOR 30TH ANNIVERSARY! BEHIND THE SCENES AT STAN WINSTON STUDIO
PREDATOR ORIGINAL COMICS SERIES 1989-1996 HARDCOVER FOR SALE
When Jean-Claude Van Damme Played Predator
Predator (1987)
Directed by
John McTiernan
Produced by
Lawrence Gordon
Joel Silver
John Davis
Written by
Jim Thomas
John Thomas
Starring
Arnold Schwarzenegger as Major Alan "Dutch" Schaefer
Carl Weathers as Colonel George Dillon
Elpidia Carrillo as Anna Gonsalves
Bill Duke as Mac Eliot
Richard Chaves as Jorge "Poncho" Ramírez
Jesse Ventura as Blain Cooper
Sonny Landham as Billy Sole
Shane Black as Rick Hawkins
R. G. Armstrong as Major General Homer Phillips
Kevin Peter Hall as The Predator / Helicopter Pilot
Peter Cullen supplies the Predator's voice, uncredited
Sven-Ole Thorsen as Soviet military adviser
Music by
Alan Silvestri
Special FX by
Stan Winston
Budget $15–18 million
Box Office $98.3 million
Films
Main series
Predator (1987)
Predator 2 (1990)
Predators (2010)
The Predator (2018)
Crossover series
Alien vs. Predator (2004)
Aliens vs. Predator: Requiem (2007)
New Comics This Week
Johnny
BACK TO THE FUTURE #20
BITCH PLANET TRIPLE FEATURE #1
BRIGGS LAND LONE WOLVES #1
COPPERHEAD #14
FLASH #24
HAL JORDAN AND THE GREEN LANTERN CORPS #22
KILL THE MINOTAUR #1
MANIFEST DESTINY #29
NEIL GAIMAN AMERICAN GODS SHADOWS #4
PLANET OF APES GREEN LANTERN #5
PREDATOR VS JUDGE DREDD VS ALIENS #4
RAI HISTORY OF VALIANT UNIVERSE #1
ROSE #3
STAR WARS #32
Brian
AMAZING SPIDER-MAN RENEW YOUR VOWS #8
DETECTIVE COMICS #958
GENERATION X #3
OPTIMUS PRIME #8
PLANET OF APES GREEN LANTERN #5
SECRET EMPIRE #4
STAR WARS #32
X-MEN BLUE #5
Contact Us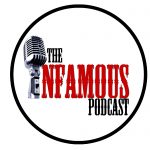 The Infamous Podcast can be found wherever podcasts are found on the Interwebs, feel free to subscribe and follow along on social media. And don't be shy about helping out the show with a 5-star review on iTunes to help us move up in the ratings.
@infamouspodcast
facebook/infamouspodcast
stitcher
iTunes
Google Play
contact@infamouspodcast.com
The music in this episodes is Moose from Bensound.com. The Infamous Podcast is Johnny Pottorf and Brian Tudor, and is produced and edited by Brian Tudor.

Subscribe today!