Dead or Alive, You're Listening to Us!
This is the last installment in the Action Monster Movie series and Johnny and Brian close out with a bang with Robocop! They take a look at the 1987 classic and breakdown the franchise. They also talk about the Han Solo director trouble, Game of Thrones' second trailer, and IDW's plot to destroy the Transformers.
News Bites
Han Solo Loses Direction
Ron Howard Steps in to Direct Han Solo
Game of Thrones Trailer #2
The Plot To Destroy ALL Transformers Has Begun at IDW!
Robocop (1987)
Summary
RoboCop is a 1987 American cyberpunk action film directed by Paul Verhoeven and written by Edward Neumeier and Michael Miner. The film stars Peter Weller, Nancy Allen, Dan O'Herlihy, Kurtwood Smith, Miguel Ferrer, and Ronny Cox. Set in a crime-ridden Detroit, Michigan, in the near future, RoboCop centers on police officer Alex Murphy (Weller) who is murdered by a gang of criminals and subsequently revived by the megacorporation Omni Consumer Products (OCP) as a superhuman cyborg law enforcer known as RoboCop.
Directed by
Paul Verhoeven
Produced by
Arne Schmidt
Written by
Edward Neumeier
Michael Miner
Starring
Peter Weller
Nancy Allen
Daniel O'Herlihy
Ronny Cox
Kurtwood Smith
Miguel Ferrer
Ray Wise
Music by
Basil Poledouris
Budget $13 million
Box Office $53.4 million (USA)
Films
RoboCop (1987)
RoboCop 2 (1990)
RoboCop 3 (1993)
RoboCop (2014)
Television Series
RoboCop: The Series (1994)
RoboCop: Prime Directives (2001)
Animated Series
RoboCop: The Animated Series (1988)
RoboCop: Alpha Commando (1998–1999)
New Comics This Week
Johnny
BLACK HAMMER #10
BRITANNIA WE WHO #3
CROSSWIND #1
GREEN LANTERNS #25
HIGHLANDER AMERICAN DREAM #5
I HATE FAIRYLAND #13
INVINCIBLE #137
KONG OF SKULL ISLAND #12
NIGHTWING #23
OLD GUARD #5
STAR TREK BOLDLY GO #9
STAR WARS DARTH MAUL #4
STAR WARS DARTH VADER #2
STAR WARS POE DAMERON ANNUAL #1
Brian
ALL NEW GUARDIANS OF GALAXY #4
ARCHIE #21 CVR A
BATMAN #25
DESCENDER TP VOL 04 ORBITAL MECHANICS
HIGHLANDER AMERICAN DREAM #5
INVINCIBLE #137
MIGHTY THOR #20
NIGHTWING #23
STAR TREK BOLDLY GO #9
STAR WARS DARTH MAUL #4
STAR WARS DARTH VADER #2
STAR WARS POE DAMERON ANNUAL #1
SUPER SONS #5 VAR ED
WEAPONS OF MUTANT DESTRUCTION #1 FERRY VAR WMD
X-MEN GOLD #6
Contact Us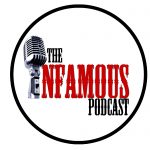 The Infamous Podcast can be found wherever podcasts are found on the Interwebs, feel free to subscribe and follow along on social media. And don't be shy about helping out the show with a 5-star review on iTunes to help us move up in the ratings.
@infamouspodcast
facebook/infamouspodcast
instagram/infamouspodcast
stitcher
iTunes
Google Play
contact@infamouspodcast.com
The music in this episodes is Moose from Bensound.com. The Infamous Podcast is Johnny Pottorf and Brian Tudor, and is produced and edited by Brian Tudor.

Subscribe today!