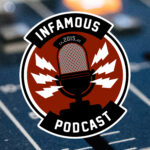 He Said He'd Be Back… And He Meant It!
This week on the Show Johnny and Brian are talking about one of the most underrated genres of films… Action Movie Monsters! This is the first is a series of podcasts about this unsung category of movies. They are kicking off this series by talking about the 1984 James Cameron classic The Terminator.
The Terminator (1984)
Directed by
James Cameron
Produced by
Gale Anne Hurd
Written by
James Cameron
Gale Anne Hurd
Starring
Arnold Schwarzenegger
Michael Biehn
Linda Hamilton
Paul Winfield
Lance Henriksen
Music by
Brad Fiedel
Budget $6.4 million
Box office $78.3 million
The Terminator Franchise
Films
Judgment Day (1991)
Rise of the Machines (2003)
Salvation (2009)
Genisys (2015)
Television Series
The Sarah Connor Chronicles (2008–2009) https://en.wikipedia.org/wiki/Terminator:_The_Sarah_Connor_Chronicles
New Comics This Week
Johnny
CABLE #1
FLASH #23
IMAGE PLUS #14
MARVEL PREVIEWS
MASK MOBILE ARMORED STRIKE KOMMAND #7
PREVIEWS
SAGA #43
STAR TREK WAYPOINT #5
STAR WARS DOCTOR APHRA #7
Brian
CABLE #1
GENERATION X #2
SAGA #43
SECRET EMPIRE #3
SEX CRIMINALS #19
STAR WARS DOCTOR APHRA #7
Contact Us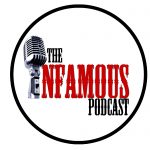 The Infamous Podcast can be found wherever podcasts are found on the Interwebs, feel free to subscribe and follow along on social media. And don't be shy about helping out the show with a 5-star review on iTunes to help us move up in the ratings.
@infamouspodcast
facebook/infamouspodcast
stitcher
iTunes
Google Play
contact@infamouspodcast.com
The music in this episodes is Moose from Bensound.com. The Infamous Podcast is Johnny Pottorf and Brian Tudor, and is produced and edited by Brian Tudor.

Subscribe today!