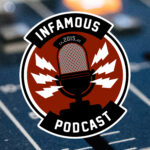 Everybody Was Kung Fu Fighting!
This week on the show Johnny and Brian are in "real-time", and that can mean only one thing… the return of News Bites! Plus the look at the battle of the century… Kenobi vs. Maul from Star Wars Rebels. They also have a chat about fantastic Kong Skull Island. Finally, they look at Netflix's latest Marvel series Iron Fist, and the entire first season.
News Bites
Bernie Wrightson, Comic Book Artist and Swamp Thing Co-Creator, Dies at 68 http://www.hollywoodreporter.com/heat-vision/bernie-wrightson-dead-swamp-thing-creator-dies-at-68-987226
Batman-Centric Teaser For Saturday's Justice League Trailer Drops https://www.bleedingcool.com/2017/03/23/batman-centric-teaser-saturdays-justice-league-trailer-drops/
What Made THOR Unworthy? – SPOILERS http://www.newsarama.com/33686-what-made-thor-unworthy-spoilers.html
Star Wars Rebels: Twin Suns
"Twin Suns" is the twentieth episode of the animated television series Star Wars Rebels' third season. It is the fifty-seventh episode of the series overall. It aired on March 18, 2017, on Disney XD.
Description
Maul arrives on Tatooine seeking revenge against his nemesis, Obi-Wan Kenobi. Ezra, meanwhile, heads to the desert planet hoping to reach the Jedi Master first.
Cast & Crew
Director(s)
Dave Filoni
Writer(s)
Dave Filoni
Henry Gilroy
Guest star(s)
– James Arnold Taylor
– Sam Witwer
– Stephen Stanton
Source: http://starwars.wikia.com/wiki/Twin_Suns_(episode)
Kong Skull Island
Kong: Skull Island is a 2017 American monster film directed by Jordan Vogt-Roberts and written by Dan Gilroy, Max Borenstein and Derek Connolly, from a story by John Gatins. The film is a reboot of the King Kong franchise and serves as the second film in Legendary's MonsterVerse. It stars an ensemble cast consisting of Tom Hiddleston, Samuel L. Jackson, John Goodman, Brie Larson, Jing Tian, Toby Kebbell, John Ortiz, Corey Hawkins, Jason Mitchell, Shea Whigham, Thomas Mann, Terry Notary and John C. Reilly. The film follows a team of scientists and Vietnam War soldiers who travel to an uncharted island in the Pacific and encounter terrifying creatures and the mighty Kong.
Description
In 1944, in the midst of World War II, two fighter pilots – an American soldier named Hank Marlow and a Japanese soldier named Gunpei Ikari – parachute onto an island in the South Pacific after a dogfight. They both engage in close combat, with Ikari gaining the upper hand, but the fight is interrupted by a behemoth and monstrous creature.
Cast & Crew
Directed by
Jordan Vogt-Roberts
Produced by
Thomas Tull
Jon Jashni
Mary Parent
Alex Garcia
Screenplay by
Dan Gilroy
Max Borenstein
Derek Connolly
Story by
John Gatins
Based on King Kong by
Merian C. Cooper
Edgar Wallace
Starring
Tom Hiddleston
Samuel L Jackson
John Goodman
Brie Larson
Jing Tian
Toby Kebbell
John Ortiz
Corey Hawkins
Jason Mitchell
Shea Whigham
Thomas Mann
Terry Notary
John C. Reilly
Music by
Henry Jackman
Cinematography
Larry Fong
Source: https://en.wikipedia.org/wiki/Kong:_Skull_Island
Iron Fist
Marvel's Iron Fist, or simply Iron Fist, is an American web television series created for Netflix by Scott Buck, based on the Marvel Comics character of the same name. It is set in the Marvel Cinematic Universe (MCU), sharing continuity with the films of the franchise and is the fourth in a series of shows that will lead up to The Defenders crossover miniseries. The series is produced by Marvel Television in association with ABC Studios and Devilina Productions, with Buck serving as showrunner.
Description
Danny Rand returns to New York City, after being presumed dead for 15 years, to reclaim his family company from Harold Meachum and his children Ward Meachum and Joy Meachum. When a threat emerges, Rand must choose between his family's legacy and his duties as the Iron Fist.
Cast & Crew
Created by
Scott Buck
Based on
Iron Fist by
Roy Thomas
Gil Kane
Starring
Finn Jones
Jessica Henwick
Tom Pelphrey
Jessica Stroup
Ramón Rodríguez
Sacha Dhawan
Rosario Dawson
David Wenham
Source: https://en.wikipedia.org/wiki/Iron_Fist_(TV_series)
New Comics This Week
Johnny
BATMAN TMNT ADVENTURES #5
BLACK HAMMER #7
BLOODSHOT REBORN #0
CURSE WORDS #3
DESCENDER #20
FLASH #19
FUTURE QUEST #11
HAL JORDAN AND THE GREEN LANTERN CORPS #17
JUDGE DREDD DEVIATIONS
LETTER 44 #31
REBELS THESE FREE & INDEPENDENT STATES #1
REBORN #5
STAR TREK GREEN LANTERN VOL 2 #4
STAR WARS DARTH MAUL #2
TRANSFORMERS VS GI JOE MOVIE ADAPTATION
UNDERWINTER #1
X-O MANOWAR (2017) #1
Brian
ACTION COMICS #976 VAR ED
BATMAN BEYOND #6
DETECTIVE COMICS #953
OPTIMUS PRIME #5
REBORN #5 CVR B CAPULLO (MR)
STAR TREK GREEN LANTERN VOL 2 #4
STAR WARS DARTH MAUL #2
UNWORTHY THOR #5
Contact Us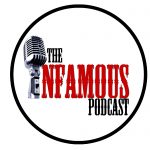 The Infamous Podcast can be found wherever podcasts are found on the Interwebs, feel free to subscribe and follow along on social media. And don't be shy about helping out the show with a 5-star review on iTunes to help us move up in the ratings.
@infamouspodcast
facebook/infamouspodcast
stitcher
iTunes
Google Play
contact@infamouspodcast.com
The music in this episodes is Moose from Bensound.com. The Infamous Podcast is Johnny Pottorf and Brian Tudor, and is produced and edited by Brian Tudor.

Subscribe today!