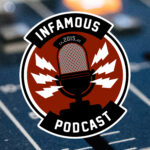 Casualties of Infinity War
This week on the show Johnny and Brian agree that Thanos was right. Oh, and they give their thought on Marvel's Avengers: Infinity War! Plus the NEW Ant-Man and the Wasp trailer.
Ant-Man and the Wasp Trailer
You can find the trailer HERE
Avengers: Infinity War (2018)
Summary
Avengers: Infinity War is a 2018 American superhero film based on the Marvel Comics superhero team the Avengers, produced by Marvel Studios and distributed by Walt Disney Studios Motion Pictures. It is the nineteenth filming the Marvel Cinematic Universe (MCU). It is the sequel to 2012's The Avengers and 2015's Avengers: Age of Ultron, while also picking up plot points from many other MCU movies, most notably Captain America: Civil War, Thor: Ragnarok, Doctor Strange, and the two Guardians of the Galaxy films. The film is directed by Anthony and Joe Russo and written by Christopher Markus and Stephen McFeely. In Avengers: Infinity War, the Avengers, and Guardians of the Galaxy attempt to stop Thanos from collecting the Infinity Stones.
Cast & Crew
Directed by
Anthony Russo
Joe Russo
Produced by
Kevin Feige
Screenplay by
Christopher Markus
Stephen McFeely
Based on The Avengers by
Stan Lee
Jack Kirby
Starring
Robert Downey Jr.
Chris Hemsworth
Mark Ruffalo
Chris Evans
Scarlett Johansson
Benedict Cumberbatch
Don Cheadle
Tom Holland
Chadwick Boseman
Paul Bettany
Elizabeth Olsen
Anthony Mackie
Sebastian Stan
Danai Gurira
Letitia Wright
Dave Bautista
Zoe Saldana
Josh Brolin
Chris Pratt
Music by
Alan Silvestri
Cinematography
Trent Opaloch
Production company
Marvel Studios
Distributed by
Walt Disney Studios Motion Pictures
Release date
April 27, 2018
Running time
149 minutes
New Comics This Week – Sponsored by comiXology
When you check out make sure to use the code 'Infamous' to get $5 off when you spend $15!


Johnny
AVENGERS #1
CAPTAIN AMERICA #701
COLOR YOUR OWN DEADPOOL AGAIN
COLOR YOUR OWN STAR WARS HAN SOLO
DC NATION #0
DEATH OR GLORY #1
DOCTOR STAR & KINGDOM LOST TOMORROWS #3
INFINITY COUNTDOWN #3
STAR TREK TNG THROUGH THE MIRROR #1
STAR WARS #47
STAR WARS TAG & BINK WERE HERE #1
TRUE BELIEVERS KITTY PRYDE AND WOLVERINE #1
TRUE BELIEVERS WOLVERINE SWORD QUEST #1
WALKING DEAD #179
Brian
ACTION COMICS SPECIAL #1
ASTONISHING X-MEN #11
BATMAN #46
NIGHTWING #44
SEX CRIMINALS #24
STAR TREK TNG THROUGH THE MIRROR #1
STAR WARS #47
WALKING DEAD #179
X-MEN GOLD #27
Contact Us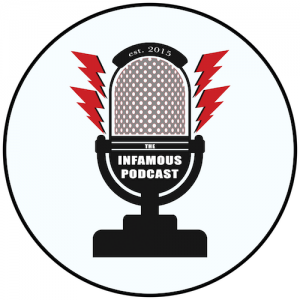 The Infamous Podcast can be found wherever podcasts are found on the Interwebs, feel free to subscribe and follow along on social media. And don't be shy about helping out the show with a 5-star review on Apple Podcasts to help us move up in the ratings.
@infamouspodcast
facebook/infamouspodcast
instagram/infamouspodcast
stitcher
Apple Podcasts
Google Play
contact@infamouspodcast.com
The music in this episodes is Moose from Bensound.com. The Infamous Podcast is Johnny Pottorf and Brian Tudor and is produced and edited by Brian Tudor.

Subscribe today!