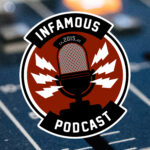 We Swear We Aren't Sponsored by Netflix!
This week on the show Johnny and Brian make it a Netflix kind of an episode! They are talking Voltron Season 4, Mindhunter, and the Netflix Original movie The Babysitter. So listen up Infaminions!
Voltron Legendary Defender Season 4
Season 4 was released on October 13th, 2017 and consists of 6 episodes. Chronologically, these episodes were originally part of Season 3 before Netflix split the season in order to air new material more frequently.
1 Code of Honor
Keith's divided attentions cause tension within the team at a time when unity is crucial. The Blades investigate a Galra supply route.
2 Reunion
Pidge gets information that prompts her to embark on an important solo mission to the far reaches of the universe.
3 Black Site
An internal struggle for power erupts within the Galra. Pidge returns to the castle with some precious cargo. The team gets a cow.
4 The Voltron Show!
Coran gets carried away with turning the Paladins into intergalactic stars when he designs an elaborate, effects-filled live tour of the universe.
5 Begin the Blitz
Team Voltron devises a plan to continue the coalition's momentum and take control of more Galra territory. Lotor makes a big move.
6 A New Defender
Forces of good and evil converge on the planet Naxzela, where Voltron faces unforeseen danger only one Paladin can help them escape.
Voltron Season 5 could release in February or April of 2018 depending on whether Netflix starts counting from August or October. If that's the case, then the Voltron Season 6 release date would occur two months later in April or June of 2018.
Mindhunter Season 1
Mindhunter is an American crime drama web television series created by Joe Penhall, based on the true crime book Mind Hunter: Inside the FBI's Elite Serial Crime Unit written by John E. Douglas and Mark Olshaker.
First episode date: October 13, 2017
Production location: McKeesport
Network: Netflix
Genre: Crime film
Executive producers: David Fincher, Charlize Theron, Joshua Donen, Ceán Chaffin
Cast
Jonathan Groff as Holden Ford
Holt McCallany as Bill Tench
Hannah Gross as Deborah 'Debbie' Mitford
Anna Torv as Dr. Wendy Carr
Cotter Smith as Shepard
Recurring
Stacey Roca as Nancy Tench
Joe Tuttle as Special Agent Gregg Smith
Alex Morf as Detective Mark Ocasek
Sonny Valicenti as Dennis Rader
Cameron Britton as Edmund Kemper
Happy Anderson as Jerry Brudos
Jack Erdie as Richard Speck
Joseph Cross as Benjamin Barnwright
Marc Kudisch as Roger Wade
Michael Park as Peter Dean
George R. Sheffey as John Boylen
Duke Lafoon as Detective Gordon Chambers
Peter Murnik as Detective Roy Carver
Lena Olin as Annaliese Stilman
Thomas Francis Murphy as Detective McGraw
Mindhunter has was picked up for a second season 6 months before the premiere of season 1, and Executive Producer David Fincher says he has a 5 season plan for the show.
The Babysitter
When Cole stays up past his bedtime, he discovers that his hot babysitter is part of a satanic cult that will stop at nothing to keep him quiet.
Release date: October 13, 2017
Director: McG
Distributed by: Netflix
Production company: Wonderland Sound and Vision
Screenplay: Brian Duffield
Cast
Samara Weaving as Bee
Judah Lewis as Cole
Hana Mae Lee as Sonya
Robbie Amell as Max
Bella Thorne as Allison
Andrew Bachelor as John
Emily Alyn Lind as Melanie
Leslie Bibb as Cole's mom
Ken Marino as Cole's dad
Miles J. Harvey as Jeremy
Samuel Gilbert as Romeo
Zachary Alexander Rice as Luis
Doug Haley as Samuel
New Comics This Week
Johnny
BACK TO THE FUTURE #24
BIG TROUBLE IN LITTLE CHINA OLD MAN JACK #2
BLOODSHOT SALVATION #2
COPPERHEAD #15
ETERNITY #1
FLASH #33
HAL JORDAN AND THE GREEN LANTERN CORPS #31
KAMANDI CHALLENGE #10
OUTCAST BY KIRKMAN & AZACETA #31
REBELS THESE FREE & INDEPENDENT STATES #8
SAGA #48
SAMURAI JACK QUANTUM JACK #2
STAR TREK BOLDLY GO #13
STAR WARS JEDI REPUBLIC MACE WINDU #3
X-O MANOWAR (2017) #8
Brian
ACTION COMICS #990
BATMAN BEYOND #13
DETECTIVE COMICS #967
JEAN GREY #8
NIGHTWING THE NEW ORDER #3
SAGA #48
STAR TREK BOLDLY GO #13
STAR WARS JEDI REPUBLIC MACE WINDU #3
X-MEN BLUE #14
Contact Us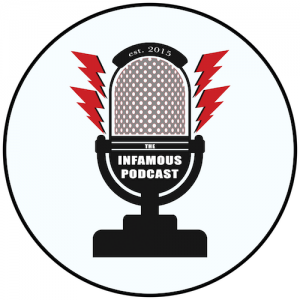 The Infamous Podcast can be found wherever podcasts are found on the Interwebs, feel free to subscribe and follow along on social media. And don't be shy about helping out the show with a 5-star review on Apple Podcasts to help us move up in the ratings.
@infamouspodcast
facebook/infamouspodcast
instagram/infamouspodcast
stitcher
Apple Podcasts
Google Play
contact@infamouspodcast.com
The music in this episodes is Moose from Bensound.com. The Infamous Podcast is Johnny Pottorf and Brian Tudor, and is produced and edited by Brian Tudor.

Subscribe today!