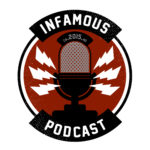 In this special bonus episode of the podcast, Brian and Darryl review Jupiter's Legacy Vol. 1 on Netflix.
Jupiter's Legacy Vol. 1
Episode 1
Title: "By Dawns Early Light"
Directed by: Steven S. DeKnight
Written by: Steven S. DeKnight
Summary
Past: In 1929, brothers Sheldon and Walter Sampson assist running their father's steel company. Following the crash, their father commits suicide.
Present: Brandon and Chloe, Sheldon's grown children, struggle to live up to their father's legacy as a superhero known as The Utopian. While Chloe lives a hedonistic lifestyle, Brandon kills an escaped supervillain named Blackstar to save the lives of his friends and parents, igniting a debate over the ethics of killing supervillains.
Episode 2
Title: "Paper and Stone"
Directed by: Steven S. DeKnight
Written by: Henry G.M. Jones
Summary
Present: Upset that Brandon has violated his strict moral code, Sheldon attempts to convince younger superheroes and the public that his code is still relevant. Blackstar's supporters retaliate against the superheroes by becoming more violent, though Brandon killed a clone, not the real Blackstar.
Past: Reporter Grace Kennedy draws Sheldon's ire by exposing his beloved father as an embezzler who stole from his employees, including a black man named Fitz Small. At his father's funeral, Sheldon is hospitalized following a seizure and is haunted by visions of a mysterious island.
Episode 3
Title: "Painting the Clouds With Sunshine"
Directed by: Christopher J. Byrne
Written by: Morenike Balogun Koch
Summary
Present: A gang of thieves indebted to the supervillain Big Man performs a series of heists. In a drunken stupor, Chloe accidentally stops one of their robberies and takes their loot. The thieves' leader, Hutch, kills Big Man to save himself and his friends, then uses Big Man's resources to retrieve what could be a powerful weapon.
Past: After the funeral, Sheldon's family and friends become concerned about what looks to be his deteriorating mental state. Sheldon's best friend and optimistic playboy George Hutchence struggles to help him amid his own financial reversal.
Episode 4
Title: "All the Devils are Here"
Directed by: Christopher J. Byrne
Written by: Akela Cooper
Summary
Present: Fired from her last endorsement and facing criticism from her former friends for not helping to fight Blackstar, Chloe descends further into addiction and partying.
Past: Sheldon abandons his fiancé Jane to follow his visions. Led to a small town in Kansas ravaged by the Depression, Sheldon encounters Old Man Miller, who suffers from similar visions. Before killing himself, Miller warns Sheldon not to follow the advice given by dead loved ones in his visions.
Episode 5
Title: "What's the Use?"
Directed by: Charlotte Brändström
Written by: Kate Barnow
Summary
Past: Encouraged by his visions, Sheldon convinces Walter, George, Grace, Fitz, and several others to journey with him to the island in 1933.
Present: Sheldon experiences doubts about his approach to enforcing his code. Evidence reveals that the Blackstar clone may have been created by George, who disappeared years ago after going rogue. Hutch and Chloe become a couple, but Sheldon questions Hutch about his father.
Episode 6
Title: "Cover Her Face"
Directed by: Charlotte Brändström
Written by: Sang Kyu Kim
Summary
Past: Sheldon's eccentricity causes his companions to question his sanity during a long sea voyage. As they attempt to turn back, Sheldon's doubts are quelled when he rescues Richard Conrad from a shipwreck and leads them through a dangerous storm to an island, all of which he saw in his visions.
Present: As Brandon struggles with the morality of his actions in the present, Grace nearly kills Baryon, a supervillain who has killed Ghost Beam, a friend of Chloe.
Episode 7
Title: "Omnes Pro Uno"
Directed by: Marc Jobst
Written by: Julia Cooperman
Summary
Present: Grace overrules Sheldon and forces Walter to recruit his daughter Raikou, an assassin, to assist in telepathically searching the Blackstar clone's brain for clues. Sheldon becomes worried that dissension among the superheroes could lead to abandoning the code and brutal authoritarianism.
Past: Sheldon leads the group to the island, where they are pushed to their physical and emotional limits. They nearly kill each other until Sheldon realizes this is a test of their worthiness. The group are pronounced worthy by ghosts of their loved ones and given superpowers.
Episode 8
Title: "How it All Ends"
Directed by: Marc Jobst
Written by: Steven S. DeKnight
Summary
The real Blackstar escapes from his cell takes Brandon hostage and forces Sheldon to choose between upholding his code or saving his son. As Sheldon hesitates, Fitz's daughter, Petra, distracts Blackstar. Brandon overpowers Blackstar and viciously beats him, but he stops when prompted by his father. Walter becomes trapped in the Blackstar clone's mind where George angrily accuses him of turning the others against him. Before George can kill Walter, Grace telepathically joins Walter and saves him. Once they escape, Walter confronts Raikou and kills her to keep his secrets: that he created the Blackstar clone and let the real Blackstar loose.
Production
Development
On July 17, 2018, it was announced that Netflix had given the production a series order for an eight-episode first season. The series was developed by Steven S. DeKnight, who is credited as an executive producer alongside Lorenzo di Bonaventura and Dan McDermott. On September 16, 2019, it was confirmed that DeKnight departed the series as showrunner over creative differences in the midst of the production for the first season. In November 2019, it was announced that Sang Kyu Kim was taking over as showrunner, following DeKnight's exit from the series.
Casting
In February 2019, it was announced that Josh Duhamel, Ben Daniels, Leslie Bibb, Elena Kampouris, Andrew Horton, Mike Wade, and Matt Lanter would star in the series. In April 2019, it was reported that Tenika Davis had been cast in a recurring role. In August 2019, it was reported that Chase Tang had been cast as a supervillain. In September 2020, Anna Akana was cast in a recurring role.
Filming
Principal photography for the first season was scheduled to initially commence in May 2019. Filming for the first season commenced in Toronto, Ontario, Canada on July 2, 2019, and ended on January 24, 2020. Additional reshoots occurred in January 2021.
Release
On February 24, 2021, a teaser trailer for the series was released. On April 7, 2021, Netflix released the official trailer for the series. The official trailer for the series features "Play God" by British artist Sam Fender. The series premiered on May 7, 2021.
Reception
For the series, review aggregator Rotten Tomatoes reported an approval rating of 36% based on 36 critic reviews, with an average rating of 5.45/10. The website's critics consensus reads, "Despite some truly epic fights, Jupiter's Legacy is simply too overstuffed and slow-moving to land many narrative punches." Metacritic gave the series a weighted average score of 45 out of 100 based on 15 critic reviews, indicating "mixed or average reviews".
Infamous Shirts for Naked Bodies

…

You'll feel "shirty" when you buy our gear from the Flying Pork Apparel Co.
New Comics This Week – Sponsored by comiXology

Contact Us
The Infamous Podcast can be found wherever podcasts are found on the Interwebs, feel free to subscribe and follow along on social media. And don't be shy about helping out the show with a 5-star review on Apple Podcasts to help us move up in the ratings.
@infamouspodcast
facebook/infamouspodcast
instagram/infamouspodcast
stitcher
Apple Podcasts
Spotify
Google Play
iHeart Radio
contact@infamouspodcast.com
Our theme music is 'Skate Beat' provided by Michael Henry, with additional music provided by Michael Henry. Find more at MeetMichaelHenry.com.
The Infamous Podcast is hosted by Brian Tudor and Darryl Jasper, is recorded in Cincinnati, Ohio. The show is produced and edited by Brian Tudor.



Subscribe today!