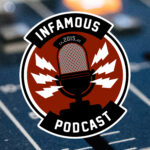 The Song of the Whale
In this special bonus episode Johnny and Brian continue counting down the Star Trek movies from last to first in celebration of the Star Trek 50th anniversary. So join them in this slingshot around the sun to save the planet with the help of a couple of whales.
Summary
Star Trek IV: The Voyage Home is a 1986 American science fiction film released by Paramount Pictures. It is the fourth feature film based on Star Trek, and is a sequel to Star Trek III: The Search for Spock (1984). It completes the story arc begun in Star Trek II: The Wrath of Khan (1982) and continued in The Search for Spock. Intent on returning home to Earth to face trial for their actions in the previous film, the former crew of the USS Enterprise finds the planet in grave danger from an alien probe attempting to contact now-extinct humpback whales. The crew travel to Earth's past to find whales who can answer the probe's call.
Cast
William Shatner … Kirk
Leonard Nimoy … Spock
DeForest Kelley … McCoy
James Doohan … Scotty
George Takei … Sulu
Walter Koenig … Chekov
Nichelle Nichols … Uhura
Jane Wyatt … Amanda
Catherine Hicks … Gillian
Mark Lenard … Sarek
Robin Curtis … Lt. Saavik
Crew
Directed by … Leonard Nimoy
Gene Roddenberry … (television series Star Trek)
Leonard Nimoy … (story) & Harve Bennett … (story)
Steve Meerson … (screenplay) & Peter Krikes … (screenplay) and
Harve Bennett … (screenplay) & Nicholas Meyer … (screenplay)
Contact Us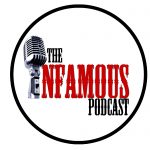 The Infamous Podcast can be found wherever podcasts are found on the Interwebs, feel free to subscribe and follow along on social media. And don't be shy about helping out the show with a 5 star review on iTunes to help us move up in the ratings.
@infamouspodcast
facebook/infamouspodcast
stitcher
iTunes
Google Play
contact@infamouspodcast.com
The music in this episodes is Pomade by Silent Partner. The Infamous Podcast is Johnny Pottorf and Brian Tudor, and is produced and edited by Brian Tudor.

Subscribe today!