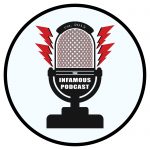 Yo Joe! It's Cosplay Time!
Johnny and Brian are joined in this bonus episode by Sara Detrick a.k.a. Mary Mercenary, with a special appearance by her husband Aaron. We talk about how she got into cosplay, some of the ups and downs of being in the cosplay community. We also talk about a group she participates in called Girls of the Finest and their different charitable work. Check out the links below to find out more about how you can get a cool calendar and help this year's charity K9s for Warriors.
Where to find Sara Online
Mary Mercenary on Facebook
Mary Mercenary on Instagram
Where to find Girls of the Finest
Girls of the Finest on Facebook
Girls of the Finest on Twitter
Girls of the Finest on the Web
Support the Girls of the Finest on Indiegogo
Where to find K9s for Warriors
K9s for Warriors Website
Contact Us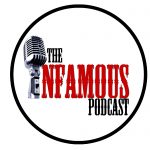 The Infamous Podcast can be found wherever podcasts are found on the Interwebs, feel free to subscribe and follow along on social media. And don't be shy about helping out the show with a 5 star review on iTunes to help us move up in the ratings.
@infamouspodcast
facebook/infamouspodcast
stitcher
iTunes
Google Play
contact@infamouspodcast.com
The music in this episodes is Pomade by Silent Partner. The Infamous Podcast is Johnny Pottorf and Brian Tudor, and is produced and edited by Brian Tudor.

Subscribe today!