Talking Toys with ROMA Collectibles' Aaron Detrick
Johnny and Brian are joined in this bonus episode by Aaron Detrick, with a special appearance by his wife Sara. They talk about the ins and outs of running his toy selling business, ROMA Collectibles and discuss his upcoming convention The Ohio Toy and Comic Show, now in its third year! Check out their Facebook page to see all the door prizes that will be available during the show on Sunday, July 24, 2016 at the Holiday Inn in Fairborn, Ohio.
Where to Find ROMA Collectibles Online
ROMA Collectibles Website 
ROMA Collectibles on Facebook
ROMA Collectibles on Instagram
Where to Find The Ohio Toy and Comic Show Online
Ohio toy and Comic Show on Facebook
Ohio Toy and Comic Show on Instagram
Contact Us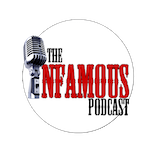 The Infamous Podcast can be found wherever podcasts are found on the Interwebs, feel free to subscribe and follow along on social media. And don't be shy about helping out the show with a 5 star review on iTunes to help us move up in the ratings.
@infamouspodcast
facebook/infamouspodcast
stitcher
iTunes
Google Play
contact@infamouspodcast.com
The music in this episodes is Pomade by Silent Partner. The Infamous Podcast is Johnny Pottorf and Brian Tudor, and is produced and edited by Brian Tudor.

Subscribe today!