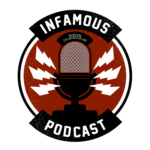 Here Comes the Juice!
On this special bonus episode of the podcast, Brian and Darryl review Strange Dogs the first episode of the sixth, and final, season of The Expanse on Amazon Prime.
Episode Index
Intro: 0:07
Episode Review: 3:39
The Expanse (Season 6 Episode 1)
Out of 5 Laconian Flora and Fauna
Darryl: 4/5
Brian: 4.5/5
Summary
The Rocinante crew make a startling discovery on an asteroid; Avasarala and Bobbie contend with the devastation on Earth; Drummer and her family must make a heartbreaking decision; on Ceres, Marco and Filip's struggles turn inward.
Title: "Strange Dogs"
Directed by: Bret Eisner
Written by: Naren Shankar
Release Date: December 3, 2021
Infamous Shirts for Naked Bodies

…

You'll feel "shirty" when you buy our gear from the Flying Pork Apparel Co.
Contact Us
The Infamous Podcast can be found wherever podcasts are found on the Interwebs, feel free to subscribe and follow along on social media. And don't be shy about helping out the show with a 5-star review on Apple Podcasts to help us move up in the ratings.
@infamouspodcast
facebook/infamouspodcast
instagram/infamouspodcast
stitcher
Apple Podcasts
Spotify
Google Play
iHeart Radio
contact@infamouspodcast.com
Our theme music is 'Skate Beat' provided by Michael Henry, with additional music provided by Michael Henry. Find more at MeetMichaelHenry.com.
The Infamous Podcast is hosted by Brian Tudor and Darryl Jasper, is recorded in Cincinnati, Ohio. The show is produced and edited by Brian Tudor.



Subscribe today!