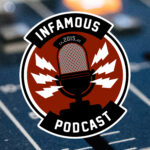 More Isn't Always Better
In this special bonus episode, Brian and Darryl share their very divergent thoughts on The Snyder Cut of Justice League.
Episode Index
Intro: 0:11
The Review: 1:38
Justice League The Snyder Cut (2021/2017)
Directed by
Zack Snyder
Produced by
Charles Roven
Deborah Snyder
Screenplay by
Chris Terrio
Story by
Chris Terrio
Zack Snyder
Will Beall
Based on Characters by
DC Comics
Starring
Ben Affleck
Henry Cavill
Amy Adams
Gal Gadot
Ray Fisher
Jason Momoa
Ezra Miller
Willem Dafoe
Jesse Eisenberg
Jeremy Irons
Diane Lane
Connie Nielsen
J. K. Simmons
Music by
Tom Holkenborg
Cinematography by
Fabian Wagner
Edited by
David Brenner
Production Companies
Warner Bros. Pictures
DC Films
Access Entertainment
Dune Entertainment
Atlas Entertainment
The Stone Quarry
Distributed by
HBO Max
Release date
March 18, 2021 (United States)
Running T ime
242 minutes
Budget $70 million[a]
Infamous Shirts for Naked Bodies

…

You'll feel "shirty" when you buy our gear from the Flying Pork Apparel Co.
New Comics This Week – Sponsored by comiXology

Brian
Contact Us
The Infamous Podcast can be found wherever podcasts are found on the Interwebs, feel free to subscribe and follow along on social media. And don't be shy about helping out the show with a 5-star review on Apple Podcasts to help us move up in the ratings.
@infamouspodcast
facebook/infamouspodcast
instagram/infamouspodcast
stitcher
Apple Podcasts
Spotify
Google Play
iHeart Radio
contact@infamouspodcast.com
Our theme music is 'Skate Beat' provided by Michael Henry, with additional music provided by Michael Henry. Find more at MeetMichaelHenry.com.
The Infamous Podcast is hosted by Brian Tudor and Darryl Jasper, is recorded in Cincinnati, Ohio. The show is produced and edited by Brian Tudor.



Subscribe today!