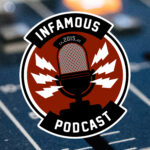 Who Watches the Watchmen… Batman and Flash!
This week Johnny and Brian have a great conversation about the latest DC Comics event 'The Button', they talk about 'Secret Empire' #0, and give their thoughts on Jude Law as Young Albus Dumbledore. All that and they look at the first quarter of the End of all Things for Invincible!
The Button
Secret Empire 
Jude Law IS Dumbledore 
Invincible: The End of All Things
New Comics This Week
Johnny
BATMAN #22
EVERAFTER FROM THE PAGES OF FABLES #9
FAITH (ONGOING) #11
GREEN LANTERNS #22
NIGHTWING #20
OUTCAST BY KIRKMAN & AZACETA #27
PAPER GIRLS #14
PREDATOR HUNTERS #1
SECRET EMPIRE #1
SPIDER-MAN 2099 #23
STAR WARS POE DAMERON #14
STAR WARS ROGUE ONE ADAPTATION #2
WALKING DEAD #167
WOODS #32
YOUNGBLOOD #1
Brian
ALL NEW GUARDIANS OF GALAXY #1
BATMAN #22
CHAMPIONS #8
JEAN GREY #1
NIGHTWING #20 VAR ED
PAPER GIRLS #14
SECRET EMPIRE #1
STAR WARS POE DAMERON #14
WALKING DEAD #167
X-MEN GOLD #3
YOUNGBLOOD #1
Contact Us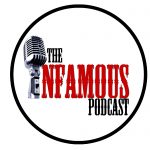 The Infamous Podcast can be found wherever podcasts are found on the Interwebs, feel free to subscribe and follow along on social media. And don't be shy about helping out the show with a 5-star review on iTunes to help us move up in the ratings.
@infamouspodcast
facebook/infamouspodcast
stitcher
iTunes
Google Play
contact@infamouspodcast.com
The music in this episodes is Moose from Bensound.com. The Infamous Podcast is Johnny Pottorf and Brian Tudor, and is produced and edited by Brian Tudor.

Subscribe today!