Talking Toys with Ryan "Buzz" Bussey
On this episode of the Infamous Podcast Johnny and Brian talk toys with their pal Buzz, plus The Force Awakens final trailer, Mallrats turning 20, the Walking Dead season 6 episode 2, and more geeky goodness.
Star Wars The Force Awakens Final Trailer
The Walking Dead Season 6 Episode 2 Talk
Surprise, surprise The Walking Dead's second episode was actually better than the season premiere.
Mallrats Turns 20
Here is the clip we talked about this week when Stan Lee gives Brody Bruce the inspiration to not give up on his relationship.
When a Comic Book Store Closes
The weekend before recording Johnny took Brian to a semi-local comic book shop's final weekend, it was a sad, but worthy trip, as there were a ton of great deals. This also brigns on the discussion about what makes a good comic book store.
Talking Toys with Buzz
We have a special guest this week… Ryan "Buzz" Bussey, owner of Hyve of Villainy: Evil Action Figures. The boys talk with Buzz about what toys are hot, what it is like traveling from show to show, and how he go into the toy selling biz!

Hyve of Villainy: Evil Action Figures
Hyve of Villainy
Hyve of Villainy on Facebok
Hyve of Villainy on Instagram
Email Buzz Your Toy Questions
Where to find Hyve of Villainy Next:
Chicago Toy Show
October 25th
Kane County Fairgrounds
Comics This Week
Johnny:
AMAZING SPIDER-MAN #2
ASTONISHING ANT-MAN #1
BACK TO THE FUTURE #1
BATMAN & ROBIN ETERNAL #3
DARTH VADER #11
GREEN LANTERN THE LOST ARMY #5
INVINCIBLE #124
INVINCIBLE IRON MAN #2
THE PAYBACKS #2
STAR WARS: SHATTERED EMPIRE #4
TITANS HUNT #1
UNCANNY INHUMANS #1
VOLTRON FROM THE ASHES #2
Johnny:
1872 #4
AGE OF APOCALYPSE #5
ASTRO CITY #28
BACK TO THE FUTURE #1
BIG TROUBLE IN LITTLE CHINA #17
BOOK OF DEATH FALL OF X-O MANOWAR #1
CLEAN ROOM #1
DARTH VADER #11
ESCAPE FROM NEW YORK #11
GREEN LANTERN THE LOST ARMY #5
INVINCIBLE #124
RAI #11
SECRET WARS AGENTS OF ATLAS #1
STAR TREK ONGOING #50
STAR WARS: SHATTERED EMPIRE #4
STEAM MAN # 1
TOKYO GHOST #2
UNCANNY INHUMANS #1
VOLTRON FROM THE ASHES #2
WEIRDWORLD #5
WHAT IF INFINITY GUARDIANS OF GALAXY #1
T-Shirt Give Away
The Question:
Which fictional comic animal creator was born in Kokomo, In and who is the character?
The Rules:
The first person to post the right answer by leaving a comment on the Infamous Podcast Facebook post about the show will win a white XL Infamous Podcast T-shirt.
The Shirt: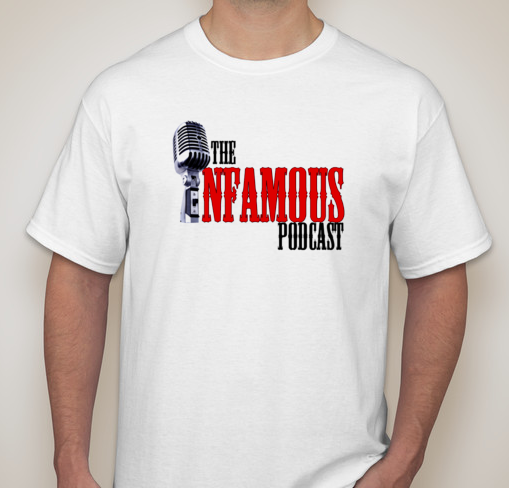 Contact Us
The Infamous Podcast can be found wherever podcasts are found on the Interwebs, feel free to subscribe and follow along on social media. And don't be shy about helping out the show with a 5 star review on iTunes to help us move up in the ratings.
@infamouspodcast
facebook/infamouspodcast
stitcher
iTunes
theinfamouspodcast@gmail.com
The music in this episodes is Pomade by Silent Partner. The Infamous Podcast is Johnny Pottorf and Brian Tudor, and is produced and edited by Brian Tudor.