Are Your Favorite Shows Coming Back?
This week on the podcast Johnny and Brian are talking about the bloodbath that was the canceled TV shows this past week, Surprise pickups, and Johnny finally saw A Quiet Place, so they give their thoughts on the movie.
TV Shows Dropped Like a Bad Habit
TV Bloodbath: 19 Shows Cancelled in 24 Hours
A Quiet Place (2018)
Summary
On a devastated Earth overrun by lethal and ever-hearing predators of a possible extraterrestrial origin, the Abbotts struggle to survive in a desolate New York City in a new era of utter silence. As this new type of invader is attracted to noise, even the slightest of sounds can be deadly; however, it's been already twelve months since the powerful monsters' first sightings, and this resilient family still stands strong. To learn the rules of survival in this muted dystopia is essential; nevertheless, an otherwise joyous event is threatening an already frail stability. Now, more than ever, don't make a sound.
Cast & Crew
Directed by
John Krasinski
Produced by
Michael Bay
Andrew Form
Brad Fuller
Screenplay by
Bryan Woods
Scott Beck
John Krasinski
Story by
Bryan Woods
Scott Beck
Music by
Marco Beltrami
Cinematography
Charlotte Bruus Christensen
Edited by
Christopher Tellefsen
Production companies
Platinum Dunes
Sunday Night
Distributed by
Paramount Pictures
Running time
90 minutes
Budget
$17-21 million
Box office
$272.1 million
Cast
Emily Blunt as Evelyn Abbott
John Krasinski, as Lee Abbott
Millicent Simmonds as Regan Abbott
Noah Jupe as Marcus Abbott
Cade Woodward as Beau Abbott
Evangelina and Ezekiel Cavoli as newborn baby Abbott to Lee & Evelyn.
New Comics This Week – Sponsored by comiXology
When you check out make sure to use the code 'Infamous' to get $5 off when you spend $15!


Johnny
AVENGERS #2
BARRIER #3
CAPTAIN AMERICA #702
GIDEON FALLS #3
KICK-ASS #4
MIGHTY MORPHIN POWER RANGERS #27
STAR TREK TNG THROUGH THE MIRROR #3 (both covers)
STAR WARS POE DAMERON #27
TRUE BELIEVERS WOLVERINE DYING GAME #1
TRUE BELIEVERS WOLVERINE FATAL ATTRACTIONS #1
Brian
BARRIER #3
BATMAN #47
KICK-ASS #4
MIGHTY THOR GATES OF VALHALLA #1
STAR TREK TNG THROUGH THE MIRROR #3
STAR WARS POE DAMERON #27
X-MEN RED #4
X-MEN WEDDING SPECIAL #1
Contact Us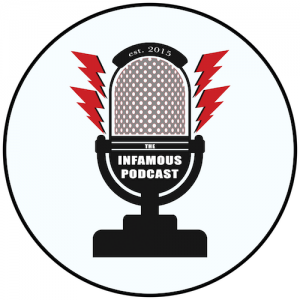 The Infamous Podcast can be found wherever podcasts are found on the Interwebs, feel free to subscribe and follow along on social media. And don't be shy about helping out the show with a 5-star review on Apple Podcasts to help us move up in the ratings.
@infamouspodcast
facebook/infamouspodcast
instagram/infamouspodcast
stitcher
Apple Podcasts
Google Play
contact@infamouspodcast.com
The music in this episodes is Moose from Bensound.com. The Infamous Podcast is Johnny Pottorf and Brian Tudor and is produced and edited by Brian Tudor.

Subscribe today!