Talking Star Was with YouTuber David Griffin
This week on the show Johnny and Brian welcome back the unofficial third member of the team David Griffin! David was able to attend Star Wars Celebration Orlando this year as part of the Collider Video team and he was kind enough to share his experience with us!
You can find David Online at:
YouTube on Collider TV Talk
Twitter
Instagram
We Talk About
The 40th Anniversary Panel
The Last Jedi (DON'T CALL IT EPISODE VIII) Panel
Star Wars Rebels Season 4
The Collider Panel
The Special Celebration Edition of the Schmoedown
and more!
New Comics This Week
Johnny
BITCH PLANET #10
BRITANNIA WE WHO #1
COMIC BOOK HISTORY OF COMICS #
FLASH #21
HAL JORDAN AND THE GREEN LANTERN CORPS #19
IMAGE PLUS #13
KAMANDI CHALLENGE #4
MARVEL PREVIEWS
OLD GUARD #3
PREVIEWS
REBELS THESE FREE & INDEPENDENT STATES #2
STAR WARS DARTH MAUL #3
X-O MANOWAR (2017) #2
Brian
AVATAR LAST AIRBENDER TP VOL 15 NORTH SOUTH PART 3
BATMAN BEYOND #7 VAR ED
BEN REILLY SCARLET SPIDER #1
DETECTIVE COMICS #955
IMAGE PLUS #13
OPTIMUS PRIME #6
STAR WARS DARTH MAUL #3
Contact Us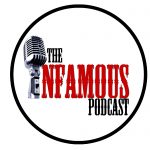 The Infamous Podcast can be found wherever podcasts are found on the Interwebs, feel free to subscribe and follow along on social media. And don't be shy about helping out the show with a 5-star review on iTunes to help us move up in the ratings.
@infamouspodcast
facebook/infamouspodcast
stitcher
iTunes
Google Play
contact@infamouspodcast.com
The music in this episodes is Moose from Bensound.com. The Infamous Podcast is Johnny Pottorf and Brian Tudor, and is produced and edited by Brian Tudor.

Subscribe today!