Magic on the Silver Screen
As they wrap up another year Johnny and Brian each share their Top 6 #CertifiedInfamous movies of 2016! Plus they talk about Dune and Star Trek: Discovery news!
News Bites
Star Trek Discovery Casting News
Legendary Gets Dune
Top Movies of 2016
Johnny's Top 6
Star Trek Beyond 
The USS Enterprise crew explores the furthest reaches of uncharted space, where they encounter a new ruthless enemy who puts them and everything the Federation stands for to the test.
Zootopia
In a city of anthropomorphic animals, a rookie bunny cop and a cynical con artist fox must work together to uncover a conspiracy.
Captain America: Civil War 
Political interference in the Avengers' activities causes a rift between former allies Captain America and Iron Man.
Suicide Squad
A secret government agency recruits some of the most dangerous incarcerated super-villains to form a defensive task force. Their first mission: save the world from the apocalypse.
The Fundamentals of Caring 
A man suffering an incredible amount of loss enrolls in a class about care-giving that changes his perspective on life.
Floyd Norman: An Animated Life 
Animator. Storyman. Troublemaker. At 80 years old, see how Disney Legend Floyd Norman, the first African-American animator at Disney, continues to impact animation and stir up "trouble" after the company forced him to retire at age 65.
Brian's Top 6
10 Cloverfield Lane
A science fiction psychological thriller film directed by Dan Trachtenberg, in his directorial debut, written by Josh Campbell, Matthew Stucken and Damien Chazelle, and starring John Goodman, Mary Elizabeth Winstead and John Gallagher, Jr.
Hell or High Water
The film follows two brothers who carry out a series of bank robberies to save their family farm, and stars Chris Pine, Ben Foster and Jeff Bridges.
The Fundamentals of Caring
A 2016 American drama film written and directed by Rob Burnett, based on the 2012 novel of the same name by Jonathan Evison and stars Paul Rudd, Craig Roberts and Selena Gomez.
Fantastic Beasts and Where to Find Them
A prequel of the Harry Potter film series, the film was produced and written by J. K. Rowling, in her screenwriting debut, and inspired by her book of the same name.
Doctor Strange
In Marvel Studios' Doctor Strange, surgeon Stephen Strange learns the mystic arts from the Ancient One after a career-ending car accident.
Deadpool
Wade Wilson, a former special forces operative working as a mercenary, meets an escort named Vanessa at a local bar, and their one-night stand becomes a relationship.
New Comics This Week
Johnny
CRYPTOCRACY #6
DIRECT CURRENTS #1
GENERATION ZERO #4
GREEN ARROW AN ADULT COLORING BOOK TP
HORRORHOUND #62
IMAGE PLUS #8
MASK MOBILE ARMORED STRIKE KOMMAND #1
NEW TALENT SHOWCASE #1
PREVIEWS
REVOLUTION #5
SAGA #40
SEVEN TO ETERNITY #3
STAR WARS ANNUAL #2
TALES FROM THE CRYPT #1
TARZAN ON THE PLANET OF THE APES #3
THUNDERBOLTS #7
TOTALLY AWESOME HULK #12
VOLTRON LEGENDARY DEFENDER #5
Brian
BATMAN ANNUAL #1
EXTRAORDINARY X-MEN #16
GUARDIANS OF GALAXY #14
IMAGE PLUS #8
IVX #0
JUGHEAD #11
MASK MOBILE ARMORED STRIKE KOMMAND #1
REVOLUTION #5 SUBSCRIPTION VAR D
SAGA #40
STAR WARS ANNUAL #2
TARZAN ON THE PLANET OF THE APES #3
TOTALLY AWESOME HULK #12 CW2
UNCANNY INHUMANS #16
VOLTRON LEGENDARY DEFENDER #5
Contact Us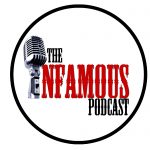 The Infamous Podcast can be found wherever podcasts are found on the Interwebs, feel free to subscribe and follow along on social media. And don't be shy about helping out the show with a 5 star review on iTunes to help us move up in the ratings.
@infamouspodcast
facebook/infamouspodcast
stitcher
iTunes
Google Play
contact@infamouspodcast.com
The music in this episodes is Pomade by Silent Partner. The Infamous Podcast is Johnny Pottorf and Brian Tudor, and is produced and edited by Brian Tudor.

Subscribe today!