What's Your Favorite Scary Movie?
On this, the final episode of 2017, Johnny and Brian take the time to share their favorite 10 movies of 2017. This was a pretty great year for movies, especially comic boom movies, so sit back and relax as they talk about the movies they've seen and like the most.
Certified Infamous Movies of 2017
Johnny
Kong: Skull Island
War for the Planet of the Apes
Diana, Our Mother: Her Life and Legacy
Split
Logan
Guardians of the Galaxy, Vol. 2
Star Wars: The Last Jedi
Kingsman: The Golden Circle
Thor: Ragnarok
Jim & Andy The Great Beyond
Brian
Logan (Fox)
Baby Driver (Tri-Star)
King Arthur: Legend of the Sword (WB)
Star Wars The Last Jedi (Lucasfilm)
Thor: Ragnorok (Marvel)
The Big Sick (Amazon)
Spider-Man: Homecoming (Sony)
Guardians of the Galaxy Vol 2. (Marvel)
Kong Skull Island (WB)
The Babysitter (Netflix)
New Comics This Week – Sponsored by comiXology

Johnny
DOOMSDAY CLOCK #2
KAMANDI CHALLENGE #12
MOON GIRL AND DEVIL DINOSAUR #26
OUTCAST BY KIRKMAN & AZACETA #32
STAR TREK BOLDLY GO #15
STAR WARS ADVENTURES #5
STAR WARS JEDI REPUBLIC MACE WINDU #5
STAR WARS LAST JEDI STORMS OF CRAIT #1
TRUE BELIEVERS DEATH OF PHOENIX
TRUE BELIEVERS PHOENIX ORIGINS
TRUE BELIEVERS PHOENIX WHAT IF
VENOMVERSE TP
X-O MANOWAR (2017) #10
Brian
ACTION COMICS #994
BATMAN BEYOND #15 VAR ED
DETECTIVE COMICS #971
DOOMSDAY CLOCK #2
NIGHTWING THE NEW ORDER #5
PHOENIX RESURRECTION RETURN JEAN GREY #1
SPIDER-MEN II #5
STAR WARS JEDI REPUBLIC MACE WINDU #5
STAR WARS LAST JEDI STORMS OF CRAIT #1
TRANSFORMERS LOST LIGHT #12
X-MEN BLUE #18
Contact Us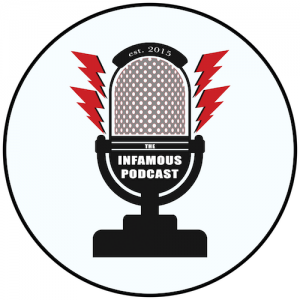 The Infamous Podcast can be found wherever podcasts are found on the Interwebs, feel free to subscribe and follow along on social media. And don't be shy about helping out the show with a 5-star review on Apple Podcasts to help us move up in the ratings.
@infamouspodcast
facebook/infamouspodcast
instagram/infamouspodcast
stitcher
Apple Podcasts
Google Play
contact@infamouspodcast.com
The music in this episodes is Moose from Bensound.com. The Infamous Podcast is Johnny Pottorf and Brian Tudor, and is produced and edited by Brian Tudor.

Subscribe today!