All The Best Stuff is on TV
This week Johnny and Brian break down their 6 favorite TV shows of 2016! They also take a look at the new trailers for Guardians of the Galaxy, Vol. 2, The Mummy, and Transformers: The Last Knight.
News Bites
IDW Opens Portland Office For New Imprint & Entertainment Magazine
Guardians of the Galaxy, Vol. 2 Trailer
Transformers: The Last Knight Trailer
Tom Cruise's The Mummy First Looks
Top 6 Shows of 2016
Johnny
Person of Interest (CBS)
An ex-assassin and a wealthy programmer save lives via a surveillance AI that sends them the identities of civilians involved in impending crimes. However, the details of the crimes– including the civilians roles– are left a mystery.
Red Oaks (Amazon)
A coming-of-age comedy set in the "go-go" 80s about a college student enjoying a last hurrah before summer comes to an end– and the future begins.
Gilmore Girls: A Year in the Life (Netflix)
Set nearly a decade after the finale of the original series, this revival follows Lorelai, Rory and Emily Gilmore through four seasons of change.
Westworld (HBO)
A series inspired by the 1973 film of the same title written by Michael Crichton about a futuristic theme park populated by artificial beings.
Girl Meets World (Disney XD)
More than a decade after Boy Meets World (1993), Cory and Topanga Matthews are married and have two children. Their daughter, Riley, faces life lessons through her family, friends, and school– where her father is her history teacher– as her parents did when they were younger.
Star Wars Rebels (Disney XD)
A brave and clever ragtag starship crew stands up against the evil Empire as it tightens its grip on the galaxy and hunts down the last of the Jedi Knights.
Brian
Atlanta (FX)
Two cousins, with different views on art versus commerce, on their way up through the Atlanta rap scene; "Earnest 'Earn' Marks," an ambitious college drop-out and his estranged cousin, who suddenly becomes a star.
Westworld (HBO)
A series inspired by the 1973 film of the same title written by Michael Crichton about a futuristic theme park populated by artificial beings.
Game of Thornes (HBO)
Nine noble families fight for control over the mythical lands of Westeros. Meanwhile, a forgotten race, hell-bent on destruction, returns after being dormant for thousands of years.
Daredevil (Netflix)
In the second season, Murdock continues to balance life as a lawyer and Daredevil, while crossing paths with Frank Castle/The Punisher, a vigilante with far deadlier methods as well as the return of his old girlfriend… Elektra Natchios.
You're the Worst (FX)
You're the Worst takes a modern look at love and happiness told through the eyes of two people who haven't been very successful with either. It's the story of Gretchen and Jimmy; two lost souls who experience fear, heartbreak, romance, sex, food, Sunday Funday, and friendship in Los Angeles only to find that sometimes the worst people make the best partners.
South Park (Comedy Central)
The show follows the exploits of four boys, Stan Marsh, Kyle Broflovski, Eric Cartman and Kenny McCormick. The boys live in the fictional small town of South Park, located within the real-life South Park basin in the Rocky Mountains of central Colorado. The town is also home to an assortment of frequent characters such as students, families, elementary school staff, and other various residents, who tend to regard South Park as a bland, quiet place to live.
New Comics This Week
Johnny
A&A #10
ALIENS DEFIANCE #7
AVENGERS #2
BIG TROUBLE LITTLE CHINA ESCAPE NEW YORK #3
CHAMPIONS #3
EVERAFTER FROM THE PAGES OF FABLES #4
FAITH (ONGOING) #6
GREEN LANTERNS #12
NIGHTWING #10
NINJAK #22
PREDATOR VS JUDGE DREDD VS ALIENS #3
SPIDER-MAN 2099 #18
STAR TREK NEXT GENERATION ADULT COLORING BOOK
STAR TREK ORIGINAL SERIES ADULT COLORING BOOK
STAR WARS DOCTOR APHRA #1
WALKING DEAD #161
WOODS #28
Brian
BATMAN #12
CHAMPIONS #3
CLONE CONSPIRACY #3
MIGHTY ZODIAC #6
NIGHTWING #10
NOVA #1 CHRISTOPHER ACTION FIGURE VAR NOW
SPIDER-MAN 2099 #18
STAR WARS DOCTOR APHRA #1
UNFOLLOW #14
UNWORTHY THOR #2
WALKING DEAD #161
Contact Us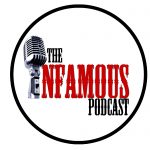 The Infamous Podcast can be found wherever podcasts are found on the Interwebs, feel free to subscribe and follow along on social media. And don't be shy about helping out the show with a 5 star review on iTunes to help us move up in the ratings.
@infamouspodcast
facebook/infamouspodcast
stitcher
iTunes
Google Play
contact@infamouspodcast.com
The music in this episodes is Pomade by Silent Partner. The Infamous Podcast is Johnny Pottorf and Brian Tudor, and is produced and edited by Brian Tudor.

Subscribe today!