The Strange Comic Book Adventures of 2016
This week Johnny and Brian look fondly look back at the year that was in comic books! All the great books from Marvel, Image, IDW Publishing, Dark Horse and more! They also talk about the latest trailer releases from Spider-Man: Homecoming and War for the Planet of the Apes. All that, plus Star Trek: Discovery casting news.
News Bites
Spider-man: Homecoming Trailer
War for the Planet of the Apes Trailer
STAR TREK: DISCOVERY Casts a WALKING DEAD Actress As Lead
Favorite Comics of 2016
Johnny
Too many to list!
Brian
The Totally Awesome Hulk (2015-)
There's a brand new Hulk in town, and his name is Amadeus Cho! Get ready for the craziest Hulk story of the millennium as a kid genius decides he's gonna be the best Hulk ever- and just possibly brings the entire Marvel Universe crashing down into chaos!
Descender (2015 – )
One young robot's struggle to stay alive in a universe where all androids have been outlawed and bounty hunters lurk on every planet. A rip-roaring and heartfelt cosmic odyssey that pits humanity against machine, and world against world, to create a sprawling space opera from the creators of Trillium, Sweet Tooth, and Little Gotham.
Huck (2015 – 2016)
In a quiet seaside town, Huck uses his special gifts to do a good deed each day. His neighbors return the favors by keeping his abilities a secret. But when a newcomer alerts the media, a firestorm erupts, sending Huck on an adventure that will change everything. This brand-new series from writer MARK MILLAR and artist RAFAEL ALBUQUERQUE presents a comic book unlike anything you've read before. Featuring a Feel-Good Movie variant cover by RAFAEL ALBUQUERQUE.
Manifest Destiny (2014 – )
Lewis & Clark didn't lead the first expedition west…nor were they the first to encounter the BIGGEST mammal in all the land: SASQUATCH! Many have claimed to have seen this legendary creature…now join the men who made first contact!
The Astonishing Ant-Man (2015-2016) ref=c2VhcmNoL2luZGV4L2Rlc2t0b3Avc2xpZGVyTGlzdC9zZXJpZXNTbGlkZXI
Scott Lang's All-New, All-Different life as Ant-Man is a social whirl — including a team-up with Sam Wilson, the new Captain America! But Scott's reunion with ex-girlfriend Darla Deeling, a.k.a. Ms. Thing, may be a lot less amicable. Business is on the up, but Scott's still a little guy with giant-size problems. Like his daughter. His love life. An old foe crossing his path. And Hench, the super-villain app that's sending a steady stream of enemies his way. If being a hero is this hard, Scott, why not go back to a life of crime?
Nightwing (2016-)
He's been Robin, Batman, a spy, a ghost. Now, Dick Grayson returns to Gotham City to reclaim the life that was taken from him. But when a new evil threatens those he loves most, Nightwing faces being torn away from home once again in order to destroy the dark force once and for all. Powerhouse artist Yanick Paquette (BATMAN, SWAMP THING) joins series writer Tim Seeley (GRAYSON, BATMAN & ROBIN ETERNAL) to return Nightwing to the DC superhero stage!
New Comics This Week
Johnny
BATMAN TMNT ADVENTURES #2
BRITANNIA #4
COMIC BOOK HISTORY OF COMICS #2
DESCENDER #17
FLASH #12
GEORGE PEREZ SIRENS #6
HAL JORDAN AND THE GREEN LANTERN CORPS #10
HILLBILLY #4
MOONSHINE #3
REBORN #3
RESIDENT ALIEN #4
STAR TREK BOLDLY GO #3
STAR WARS POE DAMERON #9
TOTALLY AWESOME HULK #13
WRATH OF THE ETERNAL WARRIOR #14
Brian
ALL NEW X-MEN #16
AMAZING SPIDER-MAN RENEW YOUR VOWS #2
DETECTIVE COMICS #946
DRIFTER #15
GUARDIANS OF GALAXY #15 NOW
IVX #1 MICHAEL CHO VAR
OPTIMUS PRIME #1
REBORN #3
SPIDER-MAN #10
STAR TREK BOLDLY GO #3 VAR
STAR WARS POE DAMERON #9
TOTALLY AWESOME HULK #13
TRANSFORMERS LOST LIGHT #1
Contact Us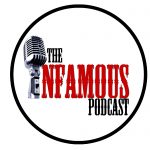 The Infamous Podcast can be found wherever podcasts are found on the Interwebs, feel free to subscribe and follow along on social media. And don't be shy about helping out the show with a 5 star review on iTunes to help us move up in the ratings.
@infamouspodcast
facebook/infamouspodcast
stitcher
iTunes
Google Play
contact@infamouspodcast.com
The music in this episodes is Pomade by Silent Partner. The Infamous Podcast is Johnny Pottorf and Brian Tudor, and is produced and edited by Brian Tudor.

Subscribe today!