Ain't These Guys (and Girls) Stinkers?
This week on the show Johnny and Brian are talking about bad guys. Specifically, the bad guys they love! The guys also talk about the DC Comic TV Universe pick ups, Marvel's Defenders and news from the Green Lantern Corps. movie! Don't forget to check out our Patreon and support the show!
News Bites
The CW Renews DC Comics Shows and more!
Marvel's Defenders Assemble
Warner Bros.' GREEN LANTERN CORPS Will Be 'LETHAL WEAPON in Space'
Top Villains
Johnny
Magua – Wes Studi – The Last of the Mohicans (1992)
Mr. Joshua – Gary Busey – Lethal Weapon
Dracula – Duncan Regher – The Monster Squad
Cobb – Brian Dennehy – Silverado
Diana – Jane Badler – V
Brian
Azula – Grey DeLisle (voice) – Avatar the Last Airbender
Zaheer – Henry Rollins (voice) – The Legend of Korra
Scorpius – Wayne Pygram – Farscape
Boyd Crowder – Walton Goggins – Justified
Stringer Bell – Idris Elba – The Wire
New Comics This Week
Johnny
CAPTAIN AMERICA STEVE ROGERS #9
FLASH #14
GOD COUNTRY #1
HAL JORDAN AND THE GREEN LANTERN CORPS #12
JUSTICE LEAGUE POWER RANGERS #1
MOONSHINE #4
NINJAK #23
OUTCAST BY KIRKMAN & AZACETA #24
SOUTHERN BASTARDS #16
STAR WARS POE DAMERON #10
TOTALLY AWESOME HULK #14
Brian
AMAZING SPIDER-MAN RENEW YOUR VOWS #3
CAPTAIN AMERICA STEVE ROGERS #9
DETECTIVE COMICS #948
GUARDIANS OF GALAXY #16
IVX #2 (OF 6) DODSON X-MEN VAR
MIGHTY THOR #15 NOW
SPIDER-MAN #12 NOW
STAR WARS POE DAMERON #10
TOTALLY AWESOME HULK #14
UNCANNY X-MEN #17
Contact Us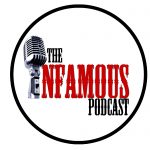 The Infamous Podcast can be found wherever podcasts are found on the Interwebs, feel free to subscribe and follow along on social media. And don't be shy about helping out the show with a 5-star review on iTunes to help us move up in the ratings.
@infamouspodcast
facebook/infamouspodcast
stitcher
iTunes
Google Play
contact@infamouspodcast.com
The music in this episodes is Moose from Bensound.com. The Infamous Podcast is Johnny Pottorf and Brian Tudor, and is produced and edited by Brian Tudor.

Subscribe today!