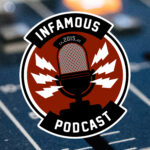 The Force vs. The Big Bang
In the third edition of Cover Up, Johnny and Brian continue to share some of their favorite comic book covers. This time out they selected characters from a grab bag of 10 random characters of their choosing, Static (Brian) vs. Vader (Johnny).
Darth Vader Covers
Static Covers
New Comics This Week
Johnny
DIVINITY III ESCAPE FROM GULAG 396 #1
GREEN LANTERNS #19
HE MAN THUNDERCATS #6
HIGHLANDER AMERICAN DREAM #2
HORRORHOUND #64
I HATE FAIRYLAND #11
INVINCIBLE #134
KONG OF SKULL ISLAND #9
MANIFEST DESTINY #27
MASK MOBILE ARMORED STRIKE KOMMAND ANNUAL #1
NEIL GAIMAN AMERICAN GODS SHADOWS #1
SNOOPY TO THE RESCUE TP
STAR TREK DEVIATIONS
STAR WARS POE DAMERON #12
WILD STORM #2
Brian
ARCHIE #18
BATMAN #19
HIGHLANDER AMERICAN DREAM #2
INVINCIBLE #134
NIGHTWING #17
SEX CRIMINALS #17
STAR WARS POE DAMERON #12
SUPER SONS #2 VAR ED
SEX CRIMINALS #17
SUPERMAN #19
UNCANNY X-MEN #19
Contact Us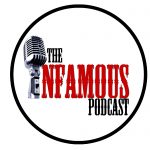 The Infamous Podcast can be found wherever podcasts are found on the Interwebs, feel free to subscribe and follow along on social media. And don't be shy about helping out the show with a 5-star review on iTunes to help us move up in the ratings.
@infamouspodcast
facebook/infamouspodcast
stitcher
iTunes
Google Play
contact@infamouspodcast.com
The music in this episodes is Moose from Bensound.com. The Infamous Podcast is Johnny Pottorf and Brian Tudor, and is produced and edited by Brian Tudor.

Subscribe today!