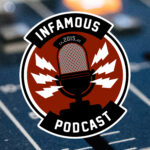 Firefist? You Sure You Want to Go With Firefist?
This week on the podcast Johnny and Brian are talking about the Merc with a Mouth's triumphant return tot he big screen with Deadpool 2. Plus… Man of Steel Comic News, the Agents of S.H.I.E.L.D. season finale, and more!
Deadpool 2 (2018)
Summary
Wisecracking mercenary Deadpool meets Russell, an angry teenage mutant who lives at an orphanage. When Russell becomes the target of Cable — a genetically enhanced soldier from the future — Deadpool realizes that he'll need some help saving the boy from such a superior enemy. He soon joins forces with Bedlam, Shatterstar, Domino and other powerful mutants to protect young Russell from Cable and his advanced weaponry.
Cast & Crew
Directed by
David Leitch
Produced by
Simon Kinberg
Ryan Reynolds
Lauren Shuler Donner
Written by
Rhett Reese
Paul Wernick
Ryan Reynolds
Based on Deadpool by
Fabian Nicieza
Rob Liefeld
Music by
Tyler Bates
Production Company
Marvel Entertainment
Kinberg Genre
The Donners' Company
TSG Entertainment
Distributed by
20th Century Fox
Budget
$110 million
Box Office
$324.6 million (as of episode release)
Cast
Ryan Reynolds as Wade Wilson / Deadpool
Josh Brolin as Cable
Morena Baccarin as Vanessa
Julian Dennison as Russell Collins / Firefist
Zazie Beetz as Domino
T. J. Miller as Weasel
Brianna Hildebrand as Negasonic Teenage Warhead
Jack Kesy as Black Tom Cassidy
Stefan Kapičić voices Colossus
Leslie Uggams as Blind Al
Karan Soni as Dopinder
Shioli Kutsuna as Yukio
Terry Crews as Bedlam
Lewis Tan as Shatterstar
Bill Skarsgård as Zeitgeist
Rob Delaney as Peter
Brad Pitt as Vanisher
New Comics This Week – Sponsored by comiXology
When you check out make sure to use the code 'Infamous' to get $5 off when you spend $15!


Johnny
BARRIER #4
BLACK HAMMER AGE OF DOOM #2
GI JOE VS SIX MILLION DOLLAR MAN #4
HORRORHOUND #71
MANIFEST DESTINY #35
SKYWARD #2
STAR TREK DISCOVERY SUCCESSION #2
STAR TREK TNG THROUGH THE MIRROR #4
STAR WARS #48
STAR WARS ANNUAL #4
STAR WARS DOCTOR APHRA #20
STAR WARS LAST JEDI ADAPTATION #2
TRUE BELIEVERS WOLVERINE THE BROTHERS #1
TRUE BELIEVERS WOLVERINE VS VENOM #1
Brian
BARRIER #4
BATMAN BEYOND #20
DETECTIVE COMICS #981
HIT-GIRL #4
STAR TREK TNG THROUGH THE MIRROR #4
STAR WARS #48
STAR WARS ANNUAL #4
STAR WARS DOCTOR APHRA #20
SUPER SONS #16 VAR ED
X-MEN GOLD #28
Contact Us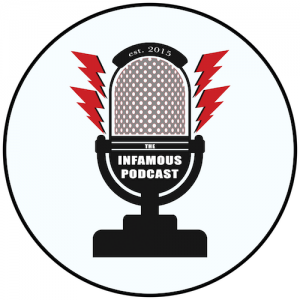 The Infamous Podcast can be found wherever podcasts are found on the Interwebs, feel free to subscribe and follow along on social media. And don't be shy about helping out the show with a 5-star review on Apple Podcasts to help us move up in the ratings.
@infamouspodcast
facebook/infamouspodcast
instagram/infamouspodcast
stitcher
Apple Podcasts
Google Play
contact@infamouspodcast.com
The music in this episodes is Moose from Bensound.com. The Infamous Podcast is Johnny Pottorf and Brian Tudor and is produced and edited by Brian Tudor.

Subscribe today!