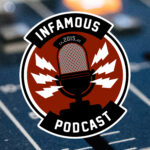 You Have to See it For Yourself
This week Johnny and Brian are looking back at the 1999 Sci-fi classic The Matrix (the two that follow not so much)! The guys are talking about how groundbreaking this film really was and break it (and the rest of the franchise) down.
News Bites
Grey Damon has been cast on The Flash as Mirror Master… Hastings from Friday Night Lights
Star Trek: Discovery is set 10 years before The Original Series… Yawn
Suicide Squad setting Box Office Records… Villains vs. Villains > Heroes vs. Heroes
Red Pill or Blue Pill… You Decide
The Matrix is a 1999 American-Australian neo-noir science fiction action film written and directed by The Wachowskis, starring Keanu Reeves, Laurence Fishburne, Carrie-Anne Moss, Hugo Weaving, and Joe Pantoliano. It depicts a dystopian future in which reality as perceived by most humans is actually a simulated reality called "the Matrix", created by sentient machines to subdue the human population, while their bodies' heat and electrical activity are used as an energy source. Computer programmer "Neo" learns this truth and is drawn into a rebellion against the machines, which involves other people who have been freed from the "dream world".
What The Matrix Gave Us
Bullet Time
"I know Kung Fu"
Carrie-Anne Moss
The Wachowskis
The Animatrix series of animated short films
The Matrix Code Screen Savers
Paranoia that we are all really in The Matrix
Matrix Dream Casting
New Comics This Week
Johnny
A&A #6
AGENTS OF SHIELD #8
ALL NEW ALL DIFFERENT AVENGERS #13
ALL NEW ALL DIFFERENT AVENGERS ANNUAL #1
BLACK PANTHER #5
DARTH VADER #24
EMPRESS #5
FLASH #4
FLINTSTONES #2
HAL JORDAN AND THE GREEN LANTERN CORPS #2
NINJAK #18
RINGSIDE #6
SPIDER-MAN 2099 #13
SUPERWOMAN #1
Brian
ACCUSED #1
ALL NEW X-MEN #12
AMAZING SPIDER-MAN #16 BDNM
DARTH VADER #24 CHRISTOPHER ACTION FIGURE VAR
DETECTIVE COMICS #938 VAR ED
HAL JORDAN AND THE GREEN LANTERN CORPS #2 VAR ED
SPIDER-MAN 2099 #13 CW2
WONDER WOMAN #4 VAR ED
Contact Us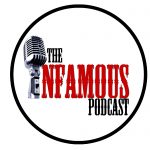 The Infamous Podcast can be found wherever podcasts are found on the Interwebs, feel free to subscribe and follow along on social media. And don't be shy about helping out the show with a 5 star review on iTunes to help us move up in the ratings.
@infamouspodcast
facebook/infamouspodcast
stitcher
iTunes
Google Play
contact@infamouspodcast.com
The music in this episodes is Pomade by Silent Partner. The Infamous Podcast is Johnny Pottorf and Brian Tudor, and is produced and edited by Brian Tudor.

Subscribe today!