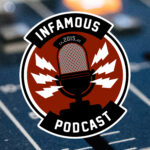 And. We. Are. Back!
Hey there Infaminions! Johnny and Brian are back in the studio with a ton of new content heading your way. You will notice was have new music, are on a new day, and have a ton more changes coming your way. This week on the show we will fill you all in on what went down while we were gone, talk a little about some of the highlights of what we missed, and let you know what to expect moving forward as we are going to be making a few changes to the show. Lastly, we are now on Spotify, so make sure to go subscribe.
One more thing… Thanks for sticking with us as we took some much needed time off! We are refreshed and ready to bring you the show you deserve!
What we talked about this week
RIP Stan Lee
Avengers: Endgame Trailer
Venom Didn't Bomb
Godzilla King of Monsters, King of Trailers
Captain Marvel's Trailers Get Cosmic
James Gunn's Superman Horror Story 
Johnny's Big (Disney) Adventure
McKay's Books
Coliseum of Comics
Windu's Comics and Collectibles
Nirvana Comics Knoxville
Infamous Shirts for Naked Bodies

…

You'll feel "shirty" when you buy our gear from the Flying Pork Apparel Co.
New Comics This Week – Sponsored by comiXology

Johnny
BLACK HAMMER CTHU-LOUISE
FANTASTIC FOUR WEDDING SPECIAL #1
HELLBOY WINTER SPECIAL 2018
OBLIVION SONG BY KIRKMAN & DE FELICI #10
OUTER DARKNESS #2
PLANET OF APES SIMIAN AGE #1
QUANTUM AGE FROM THE WORLD OF BLACK HAMMER #5
STAR TREK WAYPOINT SPECIAL #1
STAR WARS AGE REPUBLIC DARTH MAUL #1
STAR WARS DOCTOR APHRA #27
STAR WARS HAN SOLO IMPERIAL CADET #2 (OF 5)
TRUE BELIEVERS FANTASTIC FOUR DRAGON MAN #1
TRUE BELIEVERS FANTASTIC FOUR MOLECULE MAN #1
TRUE BELIEVERS FANTASTIC FOUR SUPER SKRULL #1
WILLIAM GIBSON ALIEN 3 #2
Brian
AMAZING SPIDER-MAN #11
BATMAN ANNUAL #3
BATMAN DAMNED #2
DETECTIVE COMICS #994
FANTASTIC FOUR WEDDING SPECIAL #1
OBLIVION SONG BY KIRKMAN & DE FELICI #10 (MR)
STAR WARS AGE REPUBLIC DARTH MAUL #1
STAR WARS DOCTOR APHRA #27
UNCANNY X-MEN #5 CHRISTOPHER ACTION FIGURE VAR
X-MEN RED #11
Contact Us
The Infamous Podcast can be found wherever podcasts are found on the Interwebs, feel free to subscribe and follow along on social media. And don't be shy about helping out the show with a 5-star review on Apple Podcasts to help us move up in the ratings.
@infamouspodcast
facebook/infamouspodcast
instagram/infamouspodcast
stitcher
Apple Podcasts
Spotify
Google Play
contact@infamouspodcast.com
Our theme music is 'Skate Beat' provided by Michael Henry, with additional music provided by Michael Henry. Find more at MeetMichaelHenry.com.
The Infamous Podcast is hosted by Johnny Pottorf and Brian Tudor and recorded in Cincinnati, Ohio. The show is produced and edited by Brian Tudor.



Subscribe today!