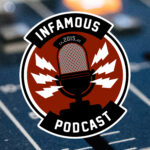 The Best Movies of 2018
2018 was a great year for movies (it was a bad year too, but let's focus on the positive)! This week on the show Johnny and Brian are talking about their favorite movies of the year. They only talk about the movies they actually saw, and as always they are in no particular order. Enjoy!
The Best of the Best of the BEST Movies This Year
Johnny
Black Panther
Avengers: Infinity War
Solo: A Star Wars Story
Christopher Robbin
Mission: Impossible – Fallout
Bohemian Rhapsody
Spider-Man: Into the Spider-Verse
Ralph Breaks the Internet
Fantastic Beasts: The Crimes of Grindelwald
Brian
Avengers: Infinity War
A Star is Born
Mission: Impossible – Fallout
Incredibles 2
Spider-Man: Into the Spider-Verse
Infamous Shirts for Naked Bodies

…

You'll feel "shirty" when you buy our gear from the Flying Pork Apparel Co.
New Comics This Week – Sponsored by comiXology

Johnny
EXILES #11
GIDEON FALLS #9
HARDCORE #1
HORRORHOUND #74
MIDDLEWEST #2
OUTCAST BY KIRKMAN & AZACETA #37
STAR WARS ADVENTURES #16
STAR WARS DARTH VADER #25
STAR WARS SOLO ADAPTATION #3 (OF 7)
Brian
AMAZING SPIDER-MAN #12
AVATAR THE LAST AIRBENDER IMBALANCE PART ONE TP
BATMAN #61
JOE HILL THE CAPE FALLEN #3
JOHN WICK #4 CVR B GARRIGA
NIGHTWING #55
SPIDER-GEDDON #5
STAR WARS DARTH VADER #25
THOR #8
UNCANNY X-MEN #6 CHRISTOPHER ACTION FIGURE VAR
Contact Us
The Infamous Podcast can be found wherever podcasts are found on the Interwebs, feel free to subscribe and follow along on social media. And don't be shy about helping out the show with a 5-star review on Apple Podcasts to help us move up in the ratings. @infamouspodcast facebook/infamouspodcast instagram/infamouspodcast stitcher Apple Podcasts Spotify Google Play contact@infamouspodcast.com Our theme music is 'Skate Beat' provided by Michael Henry, with additional music provided by Michael Henry. Find more at MeetMichaelHenry.com. The Infamous Podcast is hosted by Johnny Pottorf and Brian Tudor and recorded in Cincinnati, Ohio. The show is produced and edited by Brian Tudor.



Subscribe today!