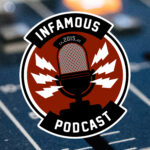 There Are Good Comics and Bad Comics… These are comics worth reading
This week on the podcast Johnny and Brian each pick one of their favorite series they think everyone should read, be reading, or have read. Volume 1 features Rising Stars vs. Kingdom Come!
Kingdom Come vs. Rising Stars
Johnny
Kingdom Come (1996)
Buy Kingdom Come on comiXology
Kingdom Come is a four-issue comic book miniseries published in 1996 by DC Comics under their Elseworlds imprint. It was written by Mark Waid and Alex Ross and painted in gouache by Ross, who also developed the concept from an original idea. This Elseworlds story is a deconstructionist tale set in a future that deals with a growing conflict between the visibly out-of-touch "traditional" superheroes, and a growing population of largely amoral and dangerously irresponsible new vigilantes, in many cases the offspring of the traditional heroes. Between these two groups is Batman and his assembled team, who attempt to contain the escalating disaster, foil the machinations of Lex Luthor, and prevent a world-ending superhuman war.
Appearances in Mainstream Continuity
The Kingdom
Thy Kingdom Come
Justice League: Generation Lost
Superman/Batman
Spin-offs
Audio play
The Comicology Kingdom Come Companion
Trading cards
Action figures
Brian
Rising Stars  (1999–2005)
Read Rising Stars on comiXology Unlimited
Rising Stars is a 24-issue comic book limited series by J. Michael Straczynski about 113 people (called "Specials") born with special abilities following the appearance of a mysterious light in the sky above Pederson, Illinois. The series explores how society may react to the advent of superpowers, and how those who are Specials may react towards society and each other. Rising Stars was one of the first comics produced under Straczynski's own Joe's Comics imprint for Top Cow Productions.
Characters
Specials
There are 113 Specials, with the story focusing on a select few and often featuring appearances by others.
At first, the Specials possessed varying levels of power, ranging from the clearly superhuman, such as Matthew Bright and Jason Miller, to almost negligible abilities like being invisible when not in direct sunlight. However, when a Special died, the energy they possessed was evenly distributed among the rest, making them stronger. In an incident similar to the Waco Siege, a number of Specials were killed. The resultant transfer of energy, later known as the Surge, was enough to turn all specials regardless of their standing into high powered individuals.
1. John Simon (Poet)
2. Matthew Bright
3. Jason Miller (Formerly Flagg, Patriot)
4. Elizabeth Chandra – Former model
5. Randy Fisk (Ravenshadow)
6. Stephanie Maas/Critical Mass
7. Jerry Montrose (Pyre)
8. Paula Ramirez
9. William Smith
10. Joshua Kane (Sanctuary)
11. Laurel Darkhaven
12. Lionel Zerb
13. Cathy Holmes
14. Brody Kempler
15. Clarence Mack
16. Peter Dawson
17. Lee Jackson
18. David Mueller
19. Patrick Ferry
Others
1. Dr. William Welles
2. Jacob Polachek
Spin-offs
Rising Stars: Bright
The first Rising Stars spin-off, a three-issue miniseries, written by Fiona Avery, penciled by Dan Jurgens and published in Feb–Apr 2003, is about Matthew Bright's rookie years as a police officer in the NYPD under the name Brendan Miller after he left Pederson.
Rising Stars: Voices of the Dead
The six-issue miniseries Rising Stars: Voices of the Dead features Lionel Zerb, a Special who can see dead people, and was published in Apr-Dec 2005. It was again written by Fiona Avery, with pencils by Staz Johnson and Al Rio. It concentrates on various mysteries Lionel uncovers because of his ability.
Rising Stars: Untouchable
The five-issue miniseries Rising Stars: Untouchable features Laurel Darkhaven, a Special who worked for the CIA as an assassin. Written by Fiona Averywith pencils by Brent Anderson. Published February 2006 – June 2006.
Infamous Shirts for Naked Bodies

…

You'll feel "shirty" when you buy our gear from the Flying Pork Apparel Co.
New Comics This Week – Sponsored by comiXology


Johnny
Brian
AGE OF X-MAN ALPHA #1
AMAZING SPIDER-MAN #14
DETECTIVE COMICS #997
FIGHT CLUB 3 #1
HEROES IN CRISIS #5 VAR ED
STAR WARS DOCTOR APHRA #28
Contact Us
The Infamous Podcast can be found wherever podcasts are found on the Interwebs, feel free to subscribe and follow along on social media. And don't be shy about helping out the show with a 5-star review on Apple Podcasts to help us move up in the ratings.
@infamouspodcast
facebook/infamouspodcast
instagram/infamouspodcast
stitcher
Apple Podcasts
Spotify
Google Play
contact@infamouspodcast.com
Our theme music is 'Skate Beat' provided by Michael Henry, with additional music provided by Michael Henry. Find more at MeetMichaelHenry.com.
The Infamous Podcast is hosted by Johnny Pottorf and Brian Tudor and recorded in Cincinnati, Ohio. The show is produced and edited by Brian Tudor.




Subscribe today!