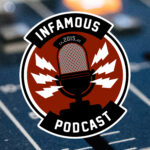 Joe and Brian Come Back for More!
This week on the show Brian and Johnny are joined by Joe Corroney and Brian Miller to talk about the awesome art they will be bringing to Star Wars Celebration Chicago.
Find Joe and Brian Online
Brian Miller
Best known for his propaganda artwork for Star Wars, Brian also creates stunning illustrations celebrating the best of pop-culture from comic books, television, and film. Fans of Hollywood blockbusters have seen Brian's illustrations for new films, like La La Land and The Force Awakens, as well as anniversary releases of The Shining, Ziggy Stardust, The Fly, and The Empire Strikes Back.
You can find Brian online at
http://www.oktopolis.com/
http://masterdigitalcolor.com/
Look for his Celebration Exclusive print "Galaxy Far, Far Away" https://oktopolis.com/products/pre-order-star-wars-a-galaxy-far-far-away
Joe Corroney
Joe Corroney has been illustrating official Star Wars and Star Trek artwork for books, games, trading cards, comic books, posters, prints and magazines since 1997. Some of the other comic books he's illustrated include X-Files, True Blood, and GI Joe for IDW Publishing, Doctor WHO for Titan Comics, Farscape for BOOM! Studios, The Phantom for Moonstone Books and Crimson Dynamo for Marvel Comics. Currently, he's developing his creator-owned comic book series, Death Avenger and continuing to create new Star Wars artwork for Disney and Lucasfilm.
You can find Joe online at
http://www.joecorroney.com/
Find them BOTH at Celebration Chicago in Booth #3116!
Infamous Shirts for Naked Bodies

…

You'll feel "shirty" when you buy our gear from the Flying Pork Apparel Co.
New Comics This Week – Sponsored by comiXology


Johnny
Brian
ADVENTURES OF THE SUPER SONS #8
AMAZING SPIDER-MAN #16.HU
BATMAN #66
ECLIPSE #13
PAPER GIRLS #26
STAR WARS #62
STAR WARS AOR PADME AMIDALA #1
STAR WARS VADER DARK VISIONS #1
UNCANNY X-MEN #13
WALKING DEAD #189
YOUNG JUSTICE #3 VAR ED
Contact Us
The Infamous Podcast can be found wherever podcasts are found on the Interwebs, feel free to subscribe and follow along on social media. And don't be shy about helping out the show with a 5-star review on Apple Podcasts to help us move up in the ratings.
@infamouspodcast
facebook/infamouspodcast
instagram/infamouspodcast
stitcher
Apple Podcasts
Spotify
Google Play
contact@infamouspodcast.com
Our theme music is 'Skate Beat' provided by Michael Henry, with additional music provided by Michael Henry. Find more at MeetMichaelHenry.com.
The Infamous Podcast is hosted by Johnny Pottorf and Brian Tudor and recorded in Cincinnati, Ohio. The show is produced and edited by Brian Tudor.




Subscribe today!