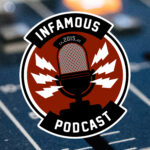 A Captain by Any Other Name
This week on the podcast, Johnny and Brian go in-depth on Captain Marvel, what they thought of the film, and where she sit in the context of the MCU.
Captain Marvel (2019)
Summary
Captain Marvel is an extraterrestrial Kree warrior who finds herself caught in the middle of an intergalactic battle between her people and the Skrulls. Living on Earth in 1995, she keeps having recurring memories of another life as U.S. Air Force pilot Carol Danvers. With help from Nick Fury, Captain Marvel tries to uncover the secrets of her past while harnessing her special superpowers to end the war with the evil Skrulls.
Production
Captain Marvel is a 2019 American superhero film based on the Marvel Comics character Carol Danvers. Produced by Marvel Studios and distributed by Walt Disney Studios Motion Pictures, it is the twenty-first film in the Marvel Cinematic Universe (MCU). The film is written and directed by Anna Boden and Ryan Fleck, with Geneva Robertson-Dworet also contributing to the screenplay. Brie Larson stars as Danvers, alongside Samuel L. Jackson, Ben Mendelsohn, Djimon Hounsou, Lee Pace, Lashana Lynch, Gemma Chan, Annette Bening, Clark Gregg, and Jude Law. Set in 1995, the story follows Danvers as she becomes Captain Marvel after Earth is caught in the center of a galactic conflict between two alien worlds.
Cast & Crew
Directed by
Anna Boden
Ryan Fleck
Produced by
Kevin Feige
Screenplay by
Anna Boden
Ryan Fleck
Geneva Robertson-Dworet
Story by
Nicole Perlman
Meg LeFauve
Anna Boden
Ryan Fleck
Geneva Robertson-Dworet
Based on
Captain Marvel by
Stan Lee
Gene Colan
Carol Danvers by
Roy Thomas
Gene Colan
Starring
Brie Larson … Carol Danvers / Vers / Captain Marvel
Samuel L. Jackson … Nick Fury
Ben Mendelsohn … Talos / Keller
Jude Law … Yon-Rogg
Annette Bening … Supreme Intelligence / Dr. Wendy Lawson
Lashana Lynch … Maria Rambeau
Clark Gregg … Agent Coulson
Rune Temte … Bron-Char
Gemma Chan … Minn-Erva
Algenis Perez Soto … Att-Lass
Djimon Hounsou … Korath
Lee Pace … Ronan
Akira Akbar … Monica Rambeau (11 Years Old)
Music by
Pinar Toprak
Cinematography
Ben Davis
Edited by
Elliot Graham
Debbie Berman
Production Company
Marvel Studios
Distributed by
Walt Disney Studios
Motion Pictures
Release date
March 8, 2019 (United States)
Running time
124 minutes
Country
United States
Budget
$152–175 million
Box office
$594.6 million
Infamous Shirts for Naked Bodies

…

You'll feel "shirty" when you buy our gear from the Flying Pork Apparel Co.
New Comics This Week – Sponsored by comiXology

Johnny
Brian
Contact Us
The Infamous Podcast can be found wherever podcasts are found on the Interwebs, feel free to subscribe and follow along on social media. And don't be shy about helping out the show with a 5-star review on Apple Podcasts to help us move up in the ratings.
@infamouspodcast
facebook/infamouspodcast
instagram/infamouspodcast
stitcher
Apple Podcasts
Spotify
Google Play
contact@infamouspodcast.com
Our theme music is 'Skate Beat' provided by Michael Henry, with additional music provided by Michael Henry. Find more at MeetMichaelHenry.com.
The Infamous Podcast is hosted by Johnny Pottorf and Brian Tudor and recorded in Cincinnati, Ohio. The show is produced and edited by Brian Tudor.



Subscribe today!