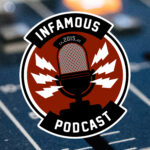 These are the Comic Books of our Lives
This week on the podcast Johnny and Brian are breaking down two more comic books worth your time and money. The books worth reading this week are Starman (Vol.2) and Chew.
The Books
Starman (vol. 2)
Publisher – DC Comics
Publication date – October 1994 – August 2001
No. of issues – 81 (plus issues #0 and #1,000,000; 2 Annuals; and various specials)
Written by James Robinson
Artist(s) Tony Harris, Peter Snejbjerg, and others
Starman (vol. 2) was an ongoing series published by DC Comics from October 1994 to August 2001, starring the superhero Starman (Jack Knight). The series was written by James Robinson with art primarily by Tony Harris from issues #0–45 and Peter Snejbjerg from issues #50–80.
Origin
Jack is the son of Ted Knight, who, as Starman, was a Golden Age superhero. Although as a child Jack is fascinated by his father's heroic life, he becomes more and more rebellious as he grows older. By the time he reaches adulthood, Jack is disdainful of his father's past. Jack's older brother David takes over his father's mantle, while Jack often regards the superhero role with open disdain.
Although Jack is shown as both schooled and talented in fine art, his true passion is collectibles. He eventually becomes the owner and operator of an antique and collectibles store.
Jack's role in the family changes after David is murdered by the son of the Mist, one of his father's old arch-foes. The Mist then attempts to murder Jack as well, who narrowly escapes by using one of his father's old gravity rods. Jack resolves to track down the Mist out of a desire to protect his father. He eventually kills the Mist's son in battle and captures both the Mist and his daughter Nash, who vows revenge. The Mist later succumbs to dementia after the death of his son.
Starman included a number of signature thematic and stylistic elements, which helped make it distinctive. One was the importance of collectibles and collecting. James Robinson was an avid collector of a number of different things and transferred this interest to the hero, Jack Knight, who ran a collectibles shop. Many of the guest characters would also discuss their collecting interests. The book also dealt with the past and nostalgia quite frequently. One manner was through the irregular appearance of "Times Past" issues set in a different time period. These usually, but not always, focused on one of the other Starmen or the Shade. Text pieces, dubbed "The Shade's Journal" and dealing with that character's adventures over his long life, also appeared irregularly instead of a letter column. In addition, most of the characters who appeared in the book had some connection to a legacy from the past. They were either immortal, had inherited a role from a family member, or were the reincarnation of a previous hero. The book also featured a number of discussions and meditations on age. Another stylistic theme in the book was the often impressionistic approach to violence and conflict. The lead up to and aftereffects of violence were generally much more important in the Starman book than the violence itself. A number of confrontations that Jack Knight had with "villains" ended peacefully, such as an early encounter with a bounty hunter who broke into Jack's shop looking for an enchanted shirt. After a short scuffle, Jack, seeing no reason not to, agrees to sell the man the shirt. When violence was depicted, it was often much more impressionistic, instead of the highly choreographed and detailed violence seen in many superhero comics. Finally, a sense of place informed many Starman stories.
James Robinson has stated his appreciation for the fictional cities of the DC Universe. With Starman, he attempted to develop the setting of Opal City as a real place with a distinct character. Robinson and artist Tony Harris developed maps of Opal City and came up with a fictional history of it. Characters would often make mention of specific locations in the city and small bits of its history.
Awards and nominations
Starman was nominated in the 1995 Eisner Awards for "Best Continuing Series" and "Best Serialized Story" for the story arc "Sins of the Father" (issues #0–3) and won the Eisner Award for "Best Serialized Story" for the story arc "Sand and Stars" (issues #20–23).[34] It was also nominated for "Best Continuing Series" in 1997.[35]
Collected editions
Most of the Starman (vol. 2) series has been collected in several trade paperbacks. Uncollected issues from this series are #36, 42, 44, 46, 54, 74, and the 80-Page Giant.
Sins of the Father Starman (vol. 2) #0–5 January 1996
Night and Day Starman (vol. 2) #7–10, #12–16 March 1997
A Wicked Inclination Starman (vol. 2) #17, #19–27) March 1998
Times Past Starman (vol. 2) #6, #11, #18, #28, Annual #1; Starman Secret Files and Origins (one-shot) February 1999
Infernal Devices Starman (vol. 2) #29–35, #37–38 October 2000
To Reach the Stars Starman (vol. 2) #39–41, #43, #45, Annual #2; The Power of Shazam! #35–36 May 2001
A Starry Knight Starman (vol. 2) #47–53 March 2002
Stars My Destination Starman (vol. 2) #55–60 January 2004
Grand Guignol Starman (vol. 2) #61–73 October 2004
Sons of the Father Starman (vol. 2) #75–80 April 2005
The entire Starman (vol. 2) series is collected in six omnibus hardcovers.
Starman Omnibus Volume 1 Starman (vol. 2) #0–16 June 2008
Starman Omnibus Volume 2 Starman (vol. 2) #17–29, Annual #1; relevant stories from Showcase '95 #12, Showcase '96 #4–5 March 2009
Starman Omnibus Volume 3 Starman (vol. 2) #30–38, Annual #2; Starman Secret Files and Origins (one-shot); The Shade #1–4 June 2009
Starman Omnibus Volume 4 Starman (vol. 2) #39–46; Starman 80-Page Giant #1; Starman: The Mist #1; The Power of Shazam! #35–36; Batman/Hellboy/Starman #1–2 February 2010
Starman Omnibus Volume 5 Starman (vol. 2) #47–60, #1,000,000; Stars and S.T.R.I.P.E. #0; All Star Comics 80-Page Giant #1; JSA: All Stars #4 October 2010
Starman Omnibus Volume 6 Starman (vol. 2) #61–81 January 2011
Chew
What is Chew?
Chew is an American comic book series about a U.S. Food and Drug Administration (FDA) agent who solves crimes by receiving psychic impressions from food, including people. It is written by John Layman with art by Rob Guillory and published by Image Comics. The series has won two Eisner Awards and two Harvey Awards.
Chew's first issue was released in June 2009, and the series concluded with its 60th issue in November 2016.
The Creative Team
Created by
John Layman
Rob Guillory
Written by
John Layman
Artist(s)
Rob Guillory
Letterer(s)
John Layman
Colorist(s)
Rob Guillory
Lisa Gonzales (#5–8)
Steve Struble (#9–18)
Taylor Wells (#27, 19–60)
Publishing Info
Publisher
Image Comics
Schedule
Monthly
Format
Ongoing series
Genre
Action/adventure
Humor/comedy
Publication date
June 2009 – November 2016
No. of issues
60
Collected Editions
Taster's Choice
International Flavor
Just Desserts
Flambé
Major League Chew
Space Cakes
Bad Apples
Family Recipes
Chicken Tenders
Blood Puddin'
Summary
Set in a world where all chicken and other bird meats are illegal, after a catastrophic outbreak of the bird flu that killed 23 million Americans, Chew centers on Tony Chu, a police detective who is a Cibopath (pronounced "see-bo-path"). Tony becomes a vice cop with the Philadelphia Police Department, and when on assignment, trying to find people smuggling chicken, he enters a black market chicken restaurant on invitation from the U.S. FDA. He has a bowl of chicken soup only to find he gets a psychic impression of the cook killing people and putting them into the soup. He goes to bust the cook, only for the cook to kill himself outside the restaurant. Chu eats a bite of the cooks tongue to find out the names of the rest of the victims. He is fired from his job with the Philadelphia PD and gets hired on to the FDA by an agent named Mason Savoy, who is also a cibopath.
Other Media
Television series
In July 2010 it was announced that production company Circle of Confusion, the same company that produces the Walking Dead television series, was planning to adapt Chew. It was revealed in March 2011, that Showtime was developing it into a half-hour comedy series, based on a script by Terri Hughes Burton and Ron Milbauer.
Chew was mentioned in Hart of Dixie.
On February 1, 2013, John Layman, writer of CHEW, posted the following status on Facebook: "CHEW Showtime TV show not happening."
Animated Feature
In April 2014 it was announced Chew would be getting an Animated feature. This project will be produced by Jeff Krelitz and David Boxenbaum via their multimedia company Heavy Metal. Jeff Krelitz will also be directing. John Layman will be writing. The Executive producers will be John Layman, Rob Guillory and Scott Boxenbaum. Steven Yeun of Walking Dead fame will be voicing the main character Tony Chu and Felicia Day will be voicing his love interest Amelia Mintz
On April 21, 2017, it was revealed in an interview with Rob Guillory, the artist of CHEW, that the animated film project was completely dead. Guillory simply stated that "it just didn't happen because Hollywood can be weird sometimes…we do have some movement on the live action show, though."
Tabletop Game
On May 19, 2014 IDW Games announced a tabletop game. The game will feature multiple ways to play including board, card and dice games. IDW Games will be working with John Layman and Rob Guillory to create the game which was initially due to be released early 2015. After multiple delays, it was eventually released on the 15th of July, 2015.
Infamous Shirts for Naked Bodies

…

You'll feel "shirty" when you buy our gear from the Flying Pork Apparel Co.
New Comics This Week – Sponsored by comiXology

Johnny
Brian
BATMAN #67
MIDDLEWEST #5
NIGHTWING #58
SPIDER-MAN LIFE STORY #1
STAR WARS #63
THOR #11
UNCANNY X-MEN #14
Contact Us
The Infamous Podcast can be found wherever podcasts are found on the Interwebs, feel free to subscribe and follow along on social media. And don't be shy about helping out the show with a 5-star review on Apple Podcasts to help us move up in the ratings.
@infamouspodcast
facebook/infamouspodcast
instagram/infamouspodcast
stitcher
Apple Podcasts
Spotify
Google Play
contact@infamouspodcast.com
Our theme music is 'Skate Beat' provided by Michael Henry, with additional music provided by Michael Henry. Find more at MeetMichaelHenry.com.
The Infamous Podcast is hosted by Johnny Pottorf and Brian Tudor and recorded in Cincinnati, Ohio. The show is produced and edited by Brian Tudor.



Subscribe today!