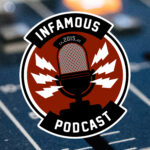 In 1983 Tom Cruise was in THREE Movies!
The year is 1983, that means Brian and Johnny are talking about their favorite movies from that year. 1983 was a strangely awesome year for movies, including: The Return of the Jedi, Scarface, Terms of Endearment, National Lampoon's Vacation and more!
Here's What Happened in 1983…
Star Wars: Return of the Jedi was released
Tom Cruise had The Outsiders, Risky Business and All the Right Movies come out
Scarface came out
Valley Girl starring Nic Cage was released.
2 James Bond movies were released in 1983 (Never Say Never Again/Octopussy)
M*A*S*H (TV series) ends after 11 years and 251 episodes on CBS. The series finale, Goodbye, Farewell and Amen, becomes the highest rated episode in TV history.
Sally Ride becomes the first American woman in space and Guion Bluford becomes the first African-American on the Space Shuttle Challenger.
Drug Abuse Resistance Education (DARE) program launched in U.S.
McDonald's introduces the McNugget.
The Top Song was Every Breath You Take by The Police
Jenga was introduced at the London Toy Fair in January 1983.
The rock band KISS appear for the first time in public without their make up on MTV
Motown celebrates its 25th anniversary with a television special Motown 25: Yesterday, Today, Forever, during which Michael Jackson performs "Billie Jean" and introduces the moonwalk.
Swatch introduces their first watches
US Space Shuttle Challenger is launched on its maiden flight
The first mobile phones are introduced to the public by the Motorola Company
The children's show "Fraggle Rock" debuts on HBO as one of the premium cable network's first original programs.
Cabbage Patch Dolls are sold in shops and become a success
Apple released its Apple IIe personal computer
On April 18, 1983, at 7 am, the Disney Channel launched
He-Man and the Masters of the Universe, The A-Team and Reading Rainbow all premiere.
Top 10 Box Office
Return of the Jedi
Terms of Endearment
Flashdance
Trading Places
War Games
Octopussy
Sudden Impact
Staying Alive
Mr. Mom
Risky Business
The Movies
Brian
War Games
Vacation
Mr. Mom
The Man with Two Brains
Trading Places
Johnny
A Christmas Story
Krull
Porky's II: The Next Day
The Right Stuff
Trading Places
Infamous Shirts for Naked Bodies

…

You'll feel "shirty" when you buy our gear from the Flying Pork Apparel Co.
New Comics This Week – Sponsored by comiXology

Johnny
Brian
AMAZING SPIDER-MAN #20
DETECTIVE COMICS #1002
FANTASTIC FOUR #9
HEROES IN CRISIS #8 (OF 9) VAR ED
STAR WARS DOCTOR APHRA #31
STAR WARS GALAXY'S EDGE #1
WAR OF REALMS UNCANNY X-MEN #1
Contact Us
The Infamous Podcast can be found wherever podcasts are found on the Interwebs, feel free to subscribe and follow along on social media. And don't be shy about helping out the show with a 5-star review on Apple Podcasts to help us move up in the ratings.
@infamouspodcast
facebook/infamouspodcast
instagram/infamouspodcast
stitcher
Apple Podcasts
Spotify
Google Play
contact@infamouspodcast.com
Our theme music is 'Skate Beat' provided by Michael Henry, with additional music provided by Michael Henry. Find more at MeetMichaelHenry.com.
The Infamous Podcast is hosted by Johnny Pottorf and Brian Tudor and recorded in Cincinnati, Ohio. The show is produced and edited by Brian Tudor.



Subscribe today!