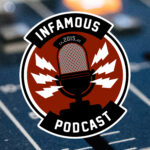 That IS America's Podcast
This week on the show Brian and Johnny give a SPOILER heavy review of Marvel's Avengers: Endgame. Special guest this week: Joe Corroney!
Avengers: Endgame
Summary
Avengers: Endgame is a 2019 American superhero film based on the Marvel Comics superhero team the Avengers, produced by Marvel Studios and distributed by Walt Disney Studios Motion Pictures. It is the sequel to 2012's The Avengers, 2015's Avengers: Age of Ultron and 2018's Avengers: Infinity War, and the 22nd film in the Marvel Cinematic Universe (MCU), serving as the conclusion to the Infinity Saga.
Cast & Crew
Directed by
Anthony Russo
Joe Russo
Produced by
Kevin Feige
Screenplay by
Christopher Markus
Stephen McFeely
Based on
The Avengers by
Stan Lee
Jack Kirby
Starring
Robert Downey Jr.
Chris Evans
Mark Ruffalo
Chris Hemsworth
Scarlett Johansson
Jeremy Renner
Don Cheadle
Paul Rudd
Brie Larson
Karen Gillan
Danai Gurira
Bradley Cooper
Josh Brolin
Music by
Alan Silvestri
Cinematography
Trent Opaloch
Edited by
Jeffrey Ford
Matthew Schmidt
Production company
Marvel Studios
Distributed by
Walt Disney Studios Motion Pictures
Release date
April 26, 2019 (United States)
Running time
181 minutes
Budget (as of posting)
$356 million
Box Office (as of posting)
$1.915 billion
Infamous Shirts for Naked Bodies

…

You'll feel "shirty" when you buy our gear from the Flying Pork Apparel Co.
New Comics This Week – Sponsored by comiXology

Brian
ADVENTURES OF THE SUPER SONS #10 (OF 12)
BATMAN #70 VAR ED
ECLIPSE #15
STAR WARS #65
STAR WARS AOR HAN SOLO #1 CONCEPT VAR
UNCANNY X-MEN #17
WAR OF REALMS #3
YOUNG JUSTICE #5 VAR ED
Contact Us
The Infamous Podcast can be found wherever podcasts are found on the Interwebs, feel free to subscribe and follow along on social media. And don't be shy about helping out the show with a 5-star review on Apple Podcasts to help us move up in the ratings.
@infamouspodcast
facebook/infamouspodcast
instagram/infamouspodcast
stitcher
Apple Podcasts
Spotify
Google Play
contact@infamouspodcast.com
Our theme music is 'Skate Beat' provided by Michael Henry, with additional music provided by Michael Henry. Find more at MeetMichaelHenry.com.
The Infamous Podcast is hosted by Johnny Pottorf and Brian Tudor and recorded in Cincinnati, Ohio. The show is produced and edited by Brian Tudor.



Subscribe today!