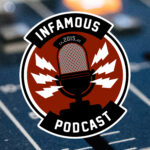 When the Evil Boy of Steel Throws a Tantrum
This week on the podcast Brian is joined by friend of the show Darryl Jasper, and they are talking about the newest James Gunn produced superhero horror movie Brightburn!
Brightburn (2019)
Brightburn is a 2019 American superhero horror film directed by David Yarovesky and produced by James Gunn and Kenneth Huang. It stars Elizabeth Banks, David Denman, Jackson A. Dunn, Matt Jones, and Meredith Hagner, and follows a young alien boy raised on Earth who realizes he has superpowers, soon using them to terrorize his town. The film is produced and financed by Screen Gems, Stage 6 Films, Troll Court Entertainment, and The H Collective.
Summary
In 2006, Tori and Kyle Breyer are a young couple living on a farm in Brightburn, Kansas. One night, a spaceship falls from the sky near their farm with a baby boy inside. The couple adopt him as their own, naming him Brandon. Twelve years later, Brandon discovers that he has superhuman strength and then a significant degree of invulnerability after hearing strange voices in his head. Later, Brandon sleepwalks to the barn, trying to open a trapdoor which contains the spaceship while chanting in an alien language. Tori intervenes and wakes him.
Cast and Crew
Directed by
David Yarovesky
Produced by
James Gunn
Kenneth Huang
Written by
Brian Gunn
Mark Gunn
Starring
Elizabeth Banks
David Denman
Jackson A. Dunn
Matt Jones
Meredith Hagner
Music by
Timothy Williams
Cinematography
Michael Dallatorre
Edited by
Andrew S. Eisen
Production Company
Screen Gems
Stage 6 Films
Troll Court Entertainment
The H Collective
Distributed by
Sony Pictures Releasing
Release date
May 24, 2019
Running time
90 minutes
Country
Budget
$6
Box Office
$20.4 million (as of posting)
Infamous Shirts for Naked Bodies

…

You'll feel "shirty" when you buy our gear from the Flying Pork Apparel Co.
New Comics This Week – Sponsored by comiXology

Contact Us
The Infamous Podcast can be found wherever podcasts are found on the Interwebs, feel free to subscribe and follow along on social media. And don't be shy about helping out the show with a 5-star review on Apple Podcasts to help us move up in the ratings.
@infamouspodcast
facebook/infamouspodcast
instagram/infamouspodcast
stitcher
Apple Podcasts
Spotify
Google Play
contact@infamouspodcast.com
Our theme music is 'Skate Beat' provided by Michael Henry, with additional music provided by Michael Henry. Find more at MeetMichaelHenry.com.
The Infamous Podcast is hosted by Johnny Pottorf and Brian Tudor and recorded in Cincinnati, Ohio. The show is produced and edited by Brian Tudor.



Subscribe today!