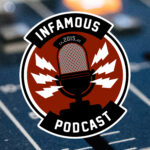 Is the High Ground a Sith's Greatest Weakness?
This week on the podcast Brian and Johnny travel way back to 2005 to discuss their favorite movies of the year.
The Year is 2005
Year in Review
Cost of a gallon of Gas $3.18
Hurricane Katrina strikes the Louisiana, Mississippi and Alabama coastal areas. Levees separating Lake Pontchartrain from New Orleans, Louisiana were breached by the surge, ultimately flooding roughly 80% of the city of New Orleans.
The video-sharing website "YouTube" was founded.
Pope John Paul II dies; over 4 million people travel to the Vatican to mourn him.
Cardinal Joseph Ratzinger has been elected as the new Pope, he has taken the name Pope Benedict XVI
Lance Armstrong wins a record seventh straight Tours de France before his scheduled retirement
Top 5 Songs of 2005
1 Mariah Carey – We Belong Together
2 Gwen Stefani – Hollaback Girl
3 Mario – Let Me Love You
4 Kelly Clarkson – Since U Been Gone
5 Ciara feat. Missy Elliott – 1, 2 Step
Notable Movies
Star Wars Episode III – Revenge of the Sith
Harry Potter and the Goblet of Fire
Crash
Batman Begins
The Chronicles of Narnia – The Lion, The Witch, and the Wardrobe
Mr. & Mrs. Smith
Fantastic Four
King Kong
Brokeback Mountain
Capote
Oscars Winners
Best Picture – Crash
Best Actor – Phillip Seymour Hoffman – Capote
Best Actress – Reese Witherspoon – Walk the Line
Best Director – Ang Lee – Brokeback Mountain
Best Supporting Actor – George Clooney – Syriana
Best Supporting Actress – Rachel Weisz – The Constant Gardener
Brian's Movies
Sky High
A History of Violence
Constantine
Sahara
Zathura
The Pacifier
Wedding Crasher
Johnny's Movies
Batman Begins
The Chronicles of Narnia: The Lion, the Witch, and the Wardrobe
The Legend of Zorro
Serenity
Star Wars: Episode III – Revenge of the Sith
Infamous Shirts for Naked Bodies

…

You'll feel "shirty" when you buy our gear from the Flying Pork Apparel Co.
New Comics This Week – Sponsored by comiXology

Contact Us
The Infamous Podcast can be found wherever podcasts are found on the Interwebs, feel free to subscribe and follow along on social media. And don't be shy about helping out the show with a 5-star review on Apple Podcasts to help us move up in the ratings.
@infamouspodcast
facebook/infamouspodcast
instagram/infamouspodcast
stitcher
Apple Podcasts
Spotify
Google Play
contact@infamouspodcast.com
Our theme music is 'Skate Beat' provided by Michael Henry, with additional music provided by Michael Henry. Find more at MeetMichaelHenry.com.
The Infamous Podcast is hosted by Johnny Pottorf and Brian Tudor and recorded in Cincinnati, Ohio. The show is produced and edited by Brian Tudor.



Subscribe today!