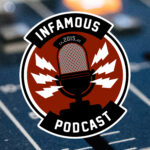 It's a Dark DARK Phoenix
This week on the podcast Brian and Johnny break down what went wrong and what went, well wrong… with Dark Phoenix. Not to be all negative, Johnny talks Godzilla: God of Monsters.
Dark Phoenix (2019)
Summary
Dark Phoenix is a 2019 American superhero film based on the Marvel Comics X-Men characters, produced by 20th Century Fox and distributed by Walt Disney Studios Motion Pictures. It is the twelfth installment in the X-Men film series, a direct sequel to X-Men: Apocalypse (2016), and the seventh and final installment in the main X-Men series. The film is written and directed by Simon Kinberg and stars an ensemble cast featuring James McAvoy, Michael Fassbender, Jennifer Lawrence, Nicholas Hoult, Sophie Turner, Tye Sheridan, Alexandra Shipp, and Jessica Chastain. In Dark Phoenix, the X-Men must face the full power of the Phoenix after a mission in space goes wrong.
Cast & Crew
Directed by
Simon Kinberg
Produced by
Simon Kinberg
Hutch Parker
Lauren Shuler Donner
Screenplay by
Simon Kinberg
Based on X-Men by
Stan Lee
Jack Kirby
The Dark Phoenix Saga by
Chris Claremont
John Byrne
Dave Cockrum
Starring
James McAvoy
Michael Fassbender
Jennifer Lawrence
Nicholas Hoult
Sophie Turner
Tye Sheridan
Alexandra Shipp
Jessica Chastain
Music by
Hans Zimmer
Cinematography
Mauro Fiore
Edited by
Lee Smith
Production Company
20th Century Fox
The Donners' Company
Marvel Entertainment
TSG Entertainment
Distributed by
Walt Disney Studios Motion Pictures
Release date
June 7, 2019 (United States)
Running Time
114 minutes
Budget
$200 million
Box office
$146.2 million
Infamous Shirts for Naked Bodies

…

You'll feel "shirty" when you buy our gear from the Flying Pork Apparel Co.
New Comics This Week – Sponsored by comiXology

Brian
AMAZING SPIDER-MAN #23
DETECTIVE COMICS #1005
SONATA #1
SPIDER-MAN LIFE STORY #4
STAR WARS VADER DARK VISIONS #5
Contact Us
The Infamous Podcast can be found wherever podcasts are found on the Interwebs, feel free to subscribe and follow along on social media. And don't be shy about helping out the show with a 5-star review on Apple Podcasts to help us move up in the ratings.
@infamouspodcast
facebook/infamouspodcast
instagram/infamouspodcast
stitcher
Apple Podcasts
Spotify
Google Play
contact@infamouspodcast.com
Our theme music is 'Skate Beat' provided by Michael Henry, with additional music provided by Michael Henry. Find more at MeetMichaelHenry.com.
The Infamous Podcast is hosted by Johnny Pottorf and Brian Tudor and recorded in Cincinnati, Ohio. The show is produced and edited by Brian Tudor.



Subscribe today!