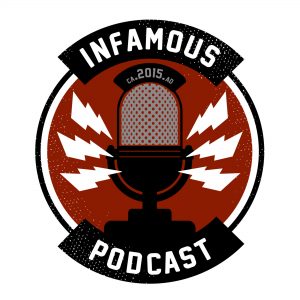 Black Mirror is Not Broken
This week on the podcast Brian and Johnny talk about season 5 of Black Mirror plus the choose your own adventure movie Bandersnatch!
Black Mirror Bandersnatch & Season 5 (2019)
Bandersnatch
David Slade
Charlie Brooker
28 December 2018
Young programmer Stefan Butler begins to create an adventure video game called Bandersnatch, based on a "choose your own adventure" book of the same name. He pitches the game to Mohan Thakur, who works for video game company Tuckersoft, while Stefan works on the game at home on his own. Stefan begins to feel like he is being controlled and descends into madness in the same way that the book author Jerome F. Davies did. The viewer chooses his actions, which can lead him variously to discuss his mother's death with his therapist, take hallucinogens with game creator Colin Ritman, kill his father Peter, kill Thakur and experience vivid dreams, among other things.
Striking Vipers
Owen Harris
Charlie Brooker
5 June 2019
Danny lives with his wife Theo and son Tyler. His friend Karl introduces him to a virtual reality fighting game called Striking Vipers X, in which he can feel the physical sensations of his character. Danny and Karl play as Lance and Roxette and after their first fight begins kissing. They regularly have sex in the game until Theo confronts Danny about their deteriorating relationship. Danny locks the game up. Several months later, Theo invites Karl around for dinner as a surprise for Danny's birthday, and Karl tells Danny that he has been unable to recreate the sensation felt when having sex with him. The pair have sex in the game again and then kiss in real life, one claiming he didn't feel anything while the other seemed unsure. They begin arguing and fighting and a passing police officer arrests them. Later, it is Danny's birthday again and he is permitted to have sex with Karl in Striking Vipers X in return for Theo going to a bar and meeting men.
Starring: Anthony Mackie, Yahya Abdul-Mateen II, Nicole Beharie, Pom Klementieff, and Ludi Lin.
Smithereens
James Hawes
Charlie Brooker
5 June 2019
Chris works as a taxi driver for the app Hitcher. He goes to a group therapy session where a mother talks about her daughter's suicide 18 months ago. He has sex with her and afterwards she makes her daily attempt to access her daughter's Persona account before it locks her out. The next day, Chris picks up Jaden, an employee of social media company Smithereen, and holds him hostage at gunpoint. Police notice suspicious activity and chase the car until Chris swerves to avoid two cycling teenagers and comes to rest in the middle of a field. As more police arrive, Chris gets Jaden to contact people at Smithereen and demands to speak to the CEO, Billy Bauer. Police and Smithereen employees investigate Chris, finding out that his fiancée died in a car crash a few years prior. By lying to Jaden about his gun being fake, Chris works out that the police are listening to him in the car through his phone. He demands to speak to Billy Bauer in the next five minutes, threatening to shoot Jaden otherwise. Despite his employees advising against it, Billy accepts the call. Chris recounts that his fiancée died in a car crash when he was driving and looked at his phone, though the other driver (who also died) was blamed for being drunk at the time. He gets Billy to contact the Persona CEO and give the mother he met her daughter's password. He then attempts to take his own life, but Jaden tries to grab the gun off him. A sniper shoots as the pair grapple over the gun.
Starring: Andrew Scott, Damson Idris, Amanda Drew, and Topher Grace.
Rachel, Jack, and Ashley Too
Anne Sewitsky
Charlie Brooker
5 June 2019
Rachel and Jack are sisters who live with their father after their mother's death. For her birthday, Rachel gets an AI doll called Ashley Too, designed after the popstar Ashley O. She dances to an Ashley O song at the school talent competition, but the routine ends badly. Meanwhile, Ashley O refuses to take pills given to her by Catherine, her manager and aunt, and plans to use the illegal activity as a way to get out of her contract. Catherine realizes this and puts the powdered pills into her food, to put her in a coma. When Ashley Too sees that Ashley O is comatose on a news report, she malfunctions. Jack manages to remove part of the software from her and the doll comes to life, claiming to be a digital copy of Ashley O which previously had a limiter on its brain function. Ashley Too convinces Jack and Rachel to go to her house to find evidence against Catherine, and Jack drives dangerously to their house. They pretend to be mouse catchers for the bodyguard to let them in and Rachel and Ashley Too find Ashley O comatose with physical restraints in her bedroom. Ashley Too unplugs a wire attached to Ashley O and she begins to regain consciousness. An employee of Catherine is alerted to this and comes to sedate her; Rachel and Jack manage to use his sedative against him. With Ashley O and Ashley Too, they crash a venue where Catherine is delivering a speech announcing a new holographic Ashley O who will perform on tour. Later, Jack and Ashley O are seen performing alternative music together.
Starring: Miley Cyrus, Angourie Rice, Madison Davenport, and Susan Pourfar.
Infamous Shirts for Naked Bodies

…

You'll feel "shirty" when you buy our gear from the Flying Pork Apparel Co.
New Comics This Week – Sponsored by comiXology

Brian
BATMAN #73
MIDDLEWEST #8
NIGHTWING #61
STAR WARS #67 CHRISTOPHER ACTION FIGURE VAR
STAR WARS DOCTOR APHRA #33
STAR WARS TIE FIGHTER #3 (OF 5)
SUPERMAN YEAR ONE #1
TEEN TITANS #31 VAR ED
UNCANNY X-MEN #20
Contact Us
The Infamous Podcast can be found wherever podcasts are found on the Interwebs, feel free to subscribe and follow along on social media. And don't be shy about helping out the show with a 5-star review on Apple Podcasts to help us move up in the ratings.
@infamouspodcast
facebook/infamouspodcast
instagram/infamouspodcast
stitcher
Apple Podcasts
Spotify
Google Play
contact@infamouspodcast.com
Our theme music is 'Skate Beat' provided by Michael Henry, with additional music provided by Michael Henry. Find more at MeetMichaelHenry.com.
The Infamous Podcast is hosted by Johnny Pottorf and Brian Tudor and recorded in Cincinnati, Ohio. The show is produced and edited by Brian Tudor.



Subscribe today!