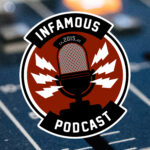 What Does Underrated Even Mean?
This week on the podcast Brian and Johnny discuss the underrated… er, a stinker of a movie Gamer… the venture into the space of randomness. Enjoy!
Gamer (2009)
Plot
In 2034, computer programmer Ken Castle (Michael C. Hall) invents self-replicating nanites that replace brain tissue and allow humans to control other humans' actions and see through their eyes. The first application of Castle's "Nanex" technology is a virtual community life simulation game, Society, which allows gamers to manipulate live actors as their avatars. Society becomes a worldwide sensation, making Castle the richest man in the world. He then creates Slayers, a first-person shooter where the "characters" are death-row prisoners using real weapons in specially created arenas. Unlike Society actors, Slayers participants are not paid; instead, they volunteer in exchange for the promise that any Slayer who survives 30 matches will earn his freedom (though no one ever has).
Cast & Crew
Directed by
Neveldine/Taylor
Produced by
Tom Rosenberg
Gary Lucchesi
Richard Wright
Skip Williamson
Written by
Neveldine & Taylor
Starring
Gerard Butler as John "Kable" Tillman, the highest-ranked warrior in the game Slayers.
Amber Valletta as Angie "Nika" Roth Tillman, Kable's wife, an avatar in Society.
Michael C. Hall as Ken Castle, the wealthy manipulative, ruthless and famous creator of Society and Slayers, and a top genius professional computer programmer.
Kyra Sedgwick as Gina Parker Smith, a famous talk show host who meets the Humanz and investigates them.
Logan Lerman as Simon Silverton, the 17-year-old gamer "playing" Kable.
Ariana Scott as Shelley Silverton aka SISSYPUSS, the sister of Simon
Terry Crews as Hackman, a psychopathic inmate sent to murder Kable.
Alison Lohman as Trace, a member of the Humanz.
Ludacris as Brother, the spokesperson, and leader of the Humanz.
Aaron Yoo as Dude, a member of the Humanz and a hacker.
John Leguizamo as Freek, an inmate who befriends Kable.
Zoë Bell as Sandra, an inmate.
Milo Ventimiglia as Rick Rape
Jonathan Chase as Geek Leader, the head of Castle's technical team.
Keith David as Agent Keith, a CIA agent.
Music by
Robert Williamson
Geoff Zanelli
Cinematography
Ekkehart Pollack
Edited by
Peter Amundson
Fernando Villena
Production
Production Companies
Lakeshore Entertainment
Lionsgate
Distributed by
Lionsgate
Release date
September 4, 2009
Running time
94 minutes
Budget
$50 million
Box office
$42 million
Development
In May 2007, Lakeshore Entertainment re-teamed with Mark Neveldine and Brian Taylor, the creators of Crank (2006), to produce a "high-concept futuristic thriller" called Game. Neveldine and Taylor wrote the script for Game and were slated to direct the film, while actor Gerard Butler was cast into the lead role.
Filming
Principal photography took place in Albuquerque, New Mexico for a 53-day shoot. Filming was at the Albuquerque Studios and on location around Albuquerque. Multistory sets were built on parking lots in downtown Albuquerque to depict buildings that were blown up in the film, and other sets were built on the back lots near the studios.[5] The crew used special hand-held Red One digital cameras, which allowed the special effects team to begin work normally done in post-production after each day's shooting.
Title
In March 2009, the film's working title was changed from Game to Citizen Game. In May 2009, another name change was announced, the new name being Gamer.
Box office
Gamer had an opening day gross of $3.3 million and ranked fourth at the box office. In total, the film earned $9.2 million in its opening weekend. Overall, the film grossed $21.5 in the United States and Canada, and $20.7 million in other territories for worldwide cumulative of $42 million, against its $50 million budget.
Critical reception
The film received negative reviews from critics. The film holds a 30% "Rotten" rating from 80 reviews on Rotten Tomatoes, with an average rating of 4.25/10; the site's consensus reading: "With all of the hyperkinetic action and none of the flair of Mark Neveldine and Brian Taylor's earlier work, Gamer has little replay value."
Critic Joe Neumaier of The New York Daily News, agreed, calling it a "Xerox of a Xerox" and citing a number of films it supposedly takes elements from, including The Matrix and Rollerball. RVA Magazine noted that Gamer's plot was overly similar to The Condemned and commented that Gamer "hates its primary audience" and "tries to criticize the commercialization of violence, even though it itself is commercialized violence".
Cultural critic Steven Shaviro authored a 10,000-word defense and analysis of the film that he posted online, and eventually re-worked into the penultimate chapter of his book, Post-Cinematic Affect (Zer0 Books, 2010).
Infamous Shirts for Naked Bodies

…

You'll feel "shirty" when you buy our gear from the Flying Pork Apparel Co.
New Comics This Week – Sponsored by comiXology

Johnny
Brian
ADVENTURES OF THE SUPER SONS #12 (OF 12)
FANTASTIC FOUR PRODIGAL SUN #1
STAR WARS AOR FINN #1
STAR WARS TARGET VADER #1
SUPERMAN UP IN THE SKY #1
UNCANNY X-MEN #21
WALKING DEAD #193
Contact Us
The Infamous Podcast can be found wherever podcasts are found on the Interwebs, feel free to subscribe and follow along on social media. And don't be shy about helping out the show with a 5-star review on Apple Podcasts to help us move up in the ratings.
@infamouspodcast
facebook/infamouspodcast
instagram/infamouspodcast
stitcher
Apple Podcasts
Spotify
Google Play
contact@infamouspodcast.com
Our theme music is 'Skate Beat' provided by Michael Henry, with additional music provided by Michael Henry. Find more at MeetMichaelHenry.com.
The Infamous Podcast is hosted by Johnny Pottorf and Brian Tudor and recorded in Cincinnati, Ohio. The show is produced and edited by Brian Tudor.



Subscribe today!