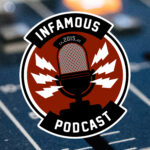 It's Toy Buying Tiiiiiiiime!
This week on the podcast is part of of the annual Infamous Podcast takeover of the Ohio Toy and Comic Show for the last time at the Holiday Inn in Fairborn. The show is moving to the Nutter Center next year, and we couldn't be more excited!
Special thanks to Mike Irizarry from the What's On Joe Mind (not to be confused with the What Joe Talkin' 'Bout) podcast for being awesome* all day.
*Special note Mike IS IN FACT, Johnny Pottorf.
Who Stopped by for a Visit?
Part 1
Aaron Dietrick
James Kavanaugh Jr.
Christopher McLeod
Part 2
Wes Whitlock
Joe Colton & Mary Mercenary
Infamous Shirts for Naked Bodies

…

You'll feel "shirty" when you buy our gear from the Flying Pork Apparel Co.
New Comics This Week – Sponsored by comiXology

Brian
BATMAN LAST KNIGHT ON EARTH #2
FANTASTIC FOUR #12
FIGHT CLUB 3 #7
JOE HILL THE CAPE FALLEN #4
POWERS OF X #1 (OF 6) CHRISTOPHER ACTION VAR
STAR WARS GALAXY'S EDGE #4
Contact Us
The Infamous Podcast can be found wherever podcasts are found on the Interwebs, feel free to subscribe and follow along on social media. And don't be shy about helping out the show with a 5-star review on Apple Podcasts to help us move up in the ratings.
@infamouspodcast
facebook/infamouspodcast
instagram/infamouspodcast
stitcher
Apple Podcasts
Spotify
Google Play
contact@infamouspodcast.com
Our theme music is 'Skate Beat' provided by Michael Henry, with additional music provided by Michael Henry. Find more at MeetMichaelHenry.com.
The Infamous Podcast is hosted by Johnny Pottorf and Brian Tudor and recorded in Cincinnati, Ohio. The show is produced and edited by Brian Tudor.



Subscribe today!