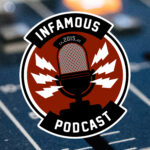 Dinos, Nazis, and AIDS… Oh, My!
The year ins 1993 and Brian and Johnny are talking about some of their favorite movies!
1993 in Movies
Top Grossing Films
1. Jurassic Park (Universal) $914,691,118
2. Mrs. Doubtfire (20th Century Fox) $441,286,195
3. The Fugitive (Warner Bros.) $368,875,760
4. Schindler's List (Universal) $321,306,305
5. The Firm (Paramount) $270,248,367
Events
The film Jurassic Park, a dinosaur epic with massive special effects, breaks box-office records by becoming the highest-grossing film ever made (at the time).
Family romance film Sleepless in Seattle revives the genre of The Courtship of Eddie's Father, with an extensive soundtrack of oldies music.
January 19 – Production begins on the film Toy Story.
March 31 – Actor Brandon Lee is accidentally killed during the filming of The Crow.
April 12 – Actress Lisa Bonet files for divorce from Lenny Kravitz.
April 17 – The Bangles' Susanna Hoffs marries screenwriter Jay Roach in Los Angeles, California.
Actress Kim Basinger files for bankruptcy after a California judge orders her to pay $7.4 million for refusing to honor a verbal contract to star in the film Boxing Helena. As a result, Basinger loses the town that she purchased in 1989, Braselton, Georgia, to her partner in the deal, the pension fund of Chicago-based Ameritech.
May 28 – Produced by Hollywood Pictures, Super Mario Bros. opens, marking the first video game film released, starring Bob Hoskins as Mario and John Leguizamo as Luigi. The film would, unfortunately, end up grossing only $20.9 million domestically and receive negative reviews from critics.
August 6 – The Fugitive is released to worldwide critical and commercial success. It will go on to become one of the highest-grossing films of all time at the time, and receive seven Academy Award nominations (including one win).
October 31 – Actor River Phoenix accidentally dies of an overdose during the filming of Dark Blood. The film was later completed and released in 2012.
October 31 – Legendary Italian filmmaker Federico Fellini dies in Rome, Italy, at the age of 73.
Oscars
Best Film
Schindler's List
Best Director
Steven Spielberg, Schindler's List
Best Actor
Tom Hanks, Philadelphia
Best Actress
Holly Hunter, The Panio
Best Supporting Actor
Tommy Lee Jones, The Fugitive
Best Supporting Actress
Winona Ryder, The Age of Innocence
Best Screen Play
Adapted – Steven Zaillian, Schindler's List
Original – Jane Campion, The Panio
Best Score
John Williams, Schindler's List
Brian and Johnny's Movies
Brian
Falling Down (Warner Bros.)
Tombstone (Hollywood Pictures/Cinergi Pictures
The Firm (Paramount)
Robin Hood: Men in Tights (20th Century Fox)
Batman: Mask of the Phantasm (Warners Bros. Animations)
The Three Musketeers (Walt Disney Pictures)
The Good Son (20th Century Fox)
A Perfect World (Warner Bros.)
So I Married an Axe Murderer (TriStar Pictures)
Aspen Extreme (Hollywood Pictures)
Airborne (Warner Bros./Icon Productions)
Johnny
Dazed and Confused
The Fugitive
Jurassic Park
Much Ado About Nothing
Tombstone
Infamous Shirts for Naked Bodies

…

You'll feel "shirty" when you buy our gear from the Flying Pork Apparel Co.
New Comics This Week – Sponsored by comiXology

Brian
DOOMSDAY CLOCK #11
FANTASTIC FOUR #14
HOUSE OF X #4 (OF 6) CHRISTOPHER ACTION FIGURE VAR
HOUSE OF X #4 (OF 6) YOUNG VAR
LEGION OF SUPER HEROES MILLENNIUM #1
STAR WARS #71 CHRISTOPHER ACTION FIGURE VAR
STAR WARS JEDI FALLEN ORDER DARK TEMPLE #1
TRANSFORMERS GHOSTBUSTERS #4 (OF 5) CVR A
TRANSFORMERS GHOSTBUSTERS #4 (OF 5) CVR B
Contact Us
The Infamous Podcast can be found wherever podcasts are found on the Interwebs, feel free to subscribe and follow along on social media. And don't be shy about helping out the show with a 5-star review on Apple Podcasts to help us move up in the ratings.
@infamouspodcast
facebook/infamouspodcast
instagram/infamouspodcast
stitcher
Apple Podcasts
Spotify
Google Play
contact@infamouspodcast.com
Our theme music is 'Skate Beat' provided by Michael Henry, with additional music provided by Michael Henry. Find more at MeetMichaelHenry.com.
The Infamous Podcast is hosted by Johnny Pottorf and Brian Tudor and recorded in Cincinnati, Ohio. The show is produced and edited by Brian Tudor.



Subscribe today!