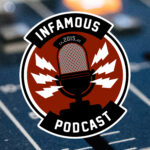 Mindhunter Season 2 Heads South
This week on the podcast Brian and Johnny step back into the minds of the FBI's Behavioral Science Unit to see what kind of Ford, Tench, and Carr have gotten themselves into this time.
Mindhunter Season 2
Cast & Crew
Cast
Jonathan Groff (Holden Ford)
Holt McCallany (Bill Tench)
Anna Torv (Dr. Wendy Carr)
Cameron Britton (Ed Kemper)
Joe Tuttle (Gregg Smith)
Sonny Valincenti (Dennis Rader)
Stacey Roca (Nancy Tench)
Sam Strike (Monte Rissell)
Directors
David Fincher
Andrew Dominik
Carl Franklin
Executive Producer(s)
Beth Kono
Charlize Theron
Joe Penhall
Ceán Chaffin
Joshua Donen
David Fincher
Courtenay Miles
Producer(s)
Jim Davidson
Mark Winemaker
Liz Hannah
Cinematography
Christopher Probst
Erik Messerschmidt
Editor(s)
Kirk Baxter
Tyler Nelson
Byron Smith
Eric Zumbrunnen
Grant Surmi
Running time
34–73 minutes
Production company(s)
Denver and Delilah Productions
Distributor
Netflix
Mindhunter Season 2 Episodes
Episode 1
Bill Tench is working 65 hours this week, but his wife Nancy is still insisting he put on a good face for a cookout she's throwing. She's trying to get in good with another couple in the area, and also has real estate aspirations and is using this cookout as a network time. Tench just wants to use it for some peace and quiet. After some pushing from Nancy, Tench eventually starts talking to some of the other parents there and it isn't long before he's being asked questions about his job. Even back in the 1970s, people were fascinated with the idea of serial killers.
Episode 2
Heading off on a solo mission to Kansas, Tench meets with agents there about the BTK killer. Yeah, we've been watching short snippets of this man for the past season, and his first confirmed kill was in 1974, so it was only a matter of time before the unnamed ADT man and the Behavioral Sciences Unit collided.
Episode 3
Nancy is absolutely distraught about the dead body in the house she's selling and asks Tench go to over and take her name and phone number off the for sale sign. He reluctantly agrees (and calls to tell Holden that he won't be joining him on their trip to Atlanta).
Episode 4
Ford is now, for lack of a better word, obsessed with the (true story) Atlanta Child Murders. He's already got all of the information from Atlanta up on a big board in the BSU's office and he's briefing Carr and Smith on it when Tench walks in. Tench is quick to point out that they only work on cases they're asked to consult on, and no one from law enforcement has asked for their help. The Deus ex Machina for this scene arrives in the form of Gunn, who just happens to be passing by and overhears what they're talking about. He also reminds Ford that they just can't investigate the disappearances because they want to… but Ford should continue to keep an interest in it, because you never know.
Episode 5
No one bothered to tell Gunn that the team was dismissed from Atlanta, and he's furious (or his kind of furious, which for him just means he is talking very sternly). Tench had to rush home for his family emergency, and Ford clearly just didn't think to call Gunn, which means he had to hear about it from someone else. This is not the time to make the Bureau look bad, and Tench promises to try and do better. Everything about the Atlanta Child Murders is out of their hands right now and they get back to business as usual.
Episode 6
All along, you've probably assumed that this show was slowly setting up for one of these characters to turn into a serial killer themselves. Well, that serial killer might be Brian Tench. The child is clearly going through some things, and he's once again not really talking to his parents or his court-assigned therapist. He's still wetting the bed, something the therapist suggests the Tenche's make him clean up going forward. One day, when called for lunch, Nancy instead finds Brian a few blocks away staring at a young girl swinging on the swings. Does he have a menacing look on his face? Sure does. Nancy wants Tench to take a few days off to spend time with his family, but he's got to go to a retreat and then head back to Atlanta and join Ford, who's already down there.
Episode 7
This plumber is more or less a dead end. A forensics team finds a whole lot of tape in his truck and they decide that's enough to try and get him to confess that he has been kidnapping and murdering kids. However, the plumber explains that his wife is pregnant and the only reason he was in the woods in the first place was to jack off because he hasn't been ~getting any~ at home. Insert face with rolling eyes emoji here.
Episode 8
Okay, now it's 1981. This show is chugging along as if it's Game of Thrones season 8 and everyone can just walk across Westeros, no problem. We know about the date change because a report on the news announces that Sammy Davis Jr. and Frank Sinatra are going to play a benefit concert in Atlanta, with proceeds going to the investigation. The concert took place on March 11, 1981.
Episode 9
If you're familiar at all with the Atlanta Child Murders (and you probably are if you've made it this far into the season and have googled a few things here and there along the way), the story Wayne Williams tells Ford, Tench, and Barney on the bridge is just about how it happened in real life the night he was first questioned. He explains that he's out at 3 a.m. to go talk to a woman named Cheryl Johnson. He's working in "the music industry" (and he's a photographer) and he's going to go meet Cheryl to hear her sing… at 3 a.m.
Source: refinery29.com
Infamous Shirts for Naked Bodies

…

You'll feel "shirty" when you buy our gear from the Flying Pork Apparel Co.
New Comics This Week – Sponsored by comiXology

Brian
BATMAN #78
DETECTIVE COMICS #1011
KING THOR #1
POWERS OF X #4 (OF 6) CHRISTOPHER ACTION FIGURE VAR
POWERS OF X #4 (OF 6) YOUNG VAR
STAR WARS AOR SUPREME LEADER SNOKE #1
YOUNG JUSTICE #8
Contact Us
The Infamous Podcast can be found wherever podcasts are found on the Interwebs, feel free to subscribe and follow along on social media. And don't be shy about helping out the show with a 5-star review on Apple Podcasts to help us move up in the ratings.
@infamouspodcast
facebook/infamouspodcast
instagram/infamouspodcast
stitcher
Apple Podcasts
Spotify
Google Play
contact@infamouspodcast.com
Our theme music is 'Skate Beat' provided by Michael Henry, with additional music provided by Michael Henry. Find more at MeetMichaelHenry.com.
The Infamous Podcast is hosted by Johnny Pottorf and Brian Tudor and recorded in Cincinnati, Ohio. The show is produced and edited by Brian Tudor.



Subscribe today!