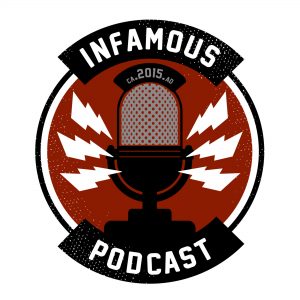 Who Terminates the Terminator?
This week on the podcast Brian and Johnny review Terminator: Dark Fate.
Terminator: Dark Fate
Summary
In Mexico City, a newly modified liquid Terminator, the Rev-9 model, arrives from the future to kill a young factory worker named Dani Ramos. Also sent back in time is Grace, a hybrid cyborg human who must protect Ramos from the seemingly indestructible robotic assassin. But the two women soon find some much-needed help from a pair of unexpected allies — seasoned warrior Sarah Connor and the T-800 Terminator.
Cast & Crew
Directed by
Tim Miller
Produced by
James Cameron
David Ellison
Screenplay by
David Goyer
Justin Rhodes
Billy Ray
Story by
James Cameron
Charles H. Eglee
Josh Friedman
David Goyer
Justin Rhodes
Based on Characters by
James Cameron
Gale Anne Hurd
Music by
Tom Holkenborg
Cinematography
Ken Seng
Edited by
Julian Clarke
Production company
Paramount Pictures
Skydance Media
20th Century Fox
Tencent Pictures
Lightstorm Entertainment
Distributed by
Paramount Pictures (North America)
Tencent Pictures (China)
20th Century Fox (International)
Release date
November 1, 2019 (United States)
Cast
Linda Hamilton as Sarah Connor
Arnold Schwarzenegger as Terminator T-800 (Model 101)/"Carl"
Mackenzie Davis as Grace
Natalia Reyes as Daniella "Dani" Ramos
Gabriel Luna as Terminator Rev-9
Diego Boneta as Diego Ramos
Tristán Ulloa as Felipe Gandal
Alicia Borrachero as Alicia
Manuel Pacific as Mateo
Enrique Arce as Mr. Ramos
Fraser James as Dean
Tom Hopper as William Hardell
Steven Cree as Rigby
Stuart McQuarrie as Craig
Running time
128 minutes
Budget$185–$196 million
Box office
$123.6 million
Johnny's Terminator List of Greatness
Terminator 2: Judgement Day
The Terminator
Terminator Salvation
Terminator: Dark Fate
Terminator Genisys
Terminator 3: Rise of the Machines
Infamous Shirts for Naked Bodies

…

You'll feel "shirty" when you buy our gear from the Flying Pork Apparel Co.
New Comics This Week – Sponsored by comiXology

Brian
BATMAN #82
FANTASTIC FOUR #16
LEGION OF SUPER HEROES #1
NEW MUTANTS #1 GARRON YOUNG GUNS VAR
STAR WARS DOCTOR APHRA #38
X-FORCE #1
Contact Us
The Infamous Podcast can be found wherever podcasts are found on the Interwebs, feel free to subscribe and follow along on social media. And don't be shy about helping out the show with a 5-star review on Apple Podcasts to help us move up in the ratings.
@infamouspodcast
facebook/infamouspodcast
instagram/infamouspodcast
stitcher
Apple Podcasts
Spotify
Google Play
contact@infamouspodcast.com
Our theme music is 'Skate Beat' provided by Michael Henry, with additional music provided by Michael Henry. Find more at MeetMichaelHenry.com.
The Infamous Podcast is hosted by Johnny Pottorf and Brian Tudor and recorded in Cincinnati, Ohio. The show is produced and edited by Brian Tudor.



Subscribe today!