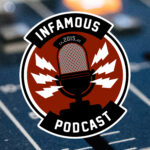 The Force is Strong with Disney+
This week on the podcast Brian and Johnny are talking about the launch of the new streaming service Disney+. First, they give a spoiler-free review of the first episode of the Mandalorian. Then share their thoughts on the launch, the app, and the initial titles with special guest the Kidbot07.
The Mandalorian
Chapter 1
Summary
Five years after the fall of the Empire[a], a Mandalorian bounty hunter collects a bounty after a scuffle exchange in a bar. He meets with his guild's leader – Greef Carga, who mostly has low paying bounties that will not cover travel expenses. Looking to get a big bounty, Carga gives him only an address of his next client who wants the bounty to be private.
Crew
Directed by
Dave Filoni
Written by
Jon Favreau
Original airdate
November 12, 2019
Cast
Pedro Pascal as The Mandalorian
Carl Weathers as Greef Carga
Werner Herzog as The Client
Omid Abtahi as Dr. Pershing
Nick Nolte as Kuiil (voice)
Taika Waititi as IG-11 (voice)
John Beasley as the Bartender
Horatio Sanz as Mythrol
Tait Fletcher as Alpha Trawler
Ryan Watson as Beta Trawler
Dmitrious Bistrevsky as Quarren Trawler
Chris Bartlett as Ferryman (as Christopher Bartlett)
Brian Posehn as Speeder Pilot
Guest appearance(s)
Emily Swallow as The Armorer
Disney+ Launch
Stream today at https://www.disneyplus.com/
Infamous Shirts for Naked Bodies

…

You'll feel "shirty" when you buy our gear from the Flying Pork Apparel Co.
New Comics This Week – Sponsored by comiXology

Brian
DETECTIVE COMICS #1015
LEGEND OF KORRA TP PART 02 RUINS OF EMPIRE
STAR WARS #74 CHRISTOPHER ACTION FIGURE VAR
STAR WARS JEDI FALLEN ORDER DARK TEMPLE #4
STAR WARS TARGET VADER #5
X-MEN #2 DX
Contact Us
The Infamous Podcast can be found wherever podcasts are found on the Interwebs, feel free to subscribe and follow along on social media. And don't be shy about helping out the show with a 5-star review on Apple Podcasts to help us move up in the ratings.
@infamouspodcast
facebook/infamouspodcast
instagram/infamouspodcast
stitcher
Apple Podcasts
Spotify
Google Play
contact@infamouspodcast.com
Our theme music is 'Skate Beat' provided by Michael Henry, with additional music provided by Michael Henry. Find more at MeetMichaelHenry.com.
The Infamous Podcast is hosted by Johnny Pottorf and Brian Tudor and recorded in Cincinnati, Ohio. The show is produced and edited by Brian Tudor.



Subscribe today!