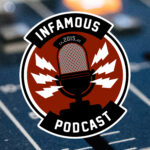 For a Skywalker to Rise REDACTED Must Fall!
This week on the podcast Brian and Johnny's Star Wars journey comes to an end (well at least the Skywalker's part of that journey). That's right, this is the review you've been waiting for… The Skywalker has Risen, and they have thoughts.
Star Wars: The Rise of Skywalker (2019)
Summary
One year after the Battle of Crait, Kylo Ren obtains a Sith wayfinder device and travels to the planet Exegol. He discovers a physically impaired Palpatine,[8] who reveals he created Snoke as a puppet to control the First Order and lure Kylo to the dark side. Palpatine unveils a secret armada of Star Destroyers and tells Kylo to find and kill Rey, who is continuing her Jedi training under General Leia Organa. Meanwhile, Finn, Poe, and Chewbacca retrieve information on Kylo's discovery originating from a First Order spy. After learning that Palpatine has returned, Rey discovers notes on a Sith artifact in the Jedi texts Luke Skywalker left behind. Rey, Poe, Finn, Chewbacca, BB-8, and C-3PO leave for Pasaana to seek a contact Luke knew, while R2-D2 stays behind with Leia.
Cast & Crew
Directed by
J. J. Abrams
Produced by
Kathleen Kennedy
J. J. Abrams
Michelle Rejwan
Screenplay by
J. J. Abrams
Chris Terrio
Story by
Derek Connolly
Colin Trevorrow
J. J. Abrams
Chris Terrio
Based on Characters by
George Lucas
Music by
John Williams
Cinematography
Dan Mindel
Edited by
Maryann Brandon
Stefan Grube
Production Company
Lucasfilm Ltd.
Bad Robot Productions
Distributed by
Walt Disney Studios Motion Pictures
Release date
December 20, 2019
Running time
142 minutes
Cast
Carrie Fisher as Leia Organa
Mark Hamill as Luke Skywalker
Adam Driver as Ben Solo/Kylo Ren,
Daisy Ridley as Rey Palpatine Skywalker
John Boyega as Finn
Oscar Isaac as Poe Dameron
Anthony Daniels as C-3PO
Naomi Ackie as Jannah
Domhnall Gleeson as General Hux
Richard E. Grant as Allegiant General Pryde
Lupita Nyong'o as Maz Kanata
Keri Russell as Zorri Bliss
Joonas Suotamo as Chewbacca
Kelly Marie Tran as Rose Tico
Ian McDiarmid as Palpatine / Darth Sidious
Billy Dee Williams as Lando Calrissian
Infamous Shirts for Naked Bodies

…

You'll feel "shirty" when you buy our gear from the Flying Pork Apparel Co.
New Comics This Week – Sponsored by comiXology

Brian
BATMAN #85
DOOMSDAY CLOCK #12
GI JOE #3
HE MAN AND THE MASTERS OF THE MULTIVERSE #2
LEGION OF SUPER HEROES #2
NEW MUTANTS #4
NIGHTWING #67
STAR WARS EMPIRE ASCENDANT #1 CHRISTOPHER ACTION FIGURE VAR
STAR WARS RISE KYLO REN #1 (OF 4) CHRISTOPHER ACTION FIGURE
X-FORCE #4 DX
Contact Us
The Infamous Podcast can be found wherever podcasts are found on the Interwebs, feel free to subscribe and follow along on social media. And don't be shy about helping out the show with a 5-star review on Apple Podcasts to help us move up in the ratings.
@infamouspodcast
facebook/infamouspodcast
instagram/infamouspodcast
stitcher
Apple Podcasts
Spotify
Google Play
contact@infamouspodcast.com
Our theme music is 'Skate Beat' provided by Michael Henry, with additional music provided by Michael Henry. Find more at MeetMichaelHenry.com.
The Infamous Podcast is hosted by Johnny Pottorf and Brian Tudor and recorded in Cincinnati, Ohio. The show is produced and edited by Brian Tudor.



Subscribe today!